Last year, I had the sublime opportunity to chat with Lisa Durupt, whom I knew from the popular Murder, She Baked Hallmark Movies & Mysteries film series. Little did I know at that time that Lisa would be the first of the recurring members of the cast I would interview (I believe I have now interviewed them all), and she was sweet enough to tolerate a novice interviewer and give thoughtful answers to every question that was posed to her. Now a little more than a year later, I was able to catch up with Lisa and get an amazing update on the massive spike her career has taken in Hallmark and elsewhere. Again, Lisa was kind enough to give conscientious and considerate answers to every question sent her way.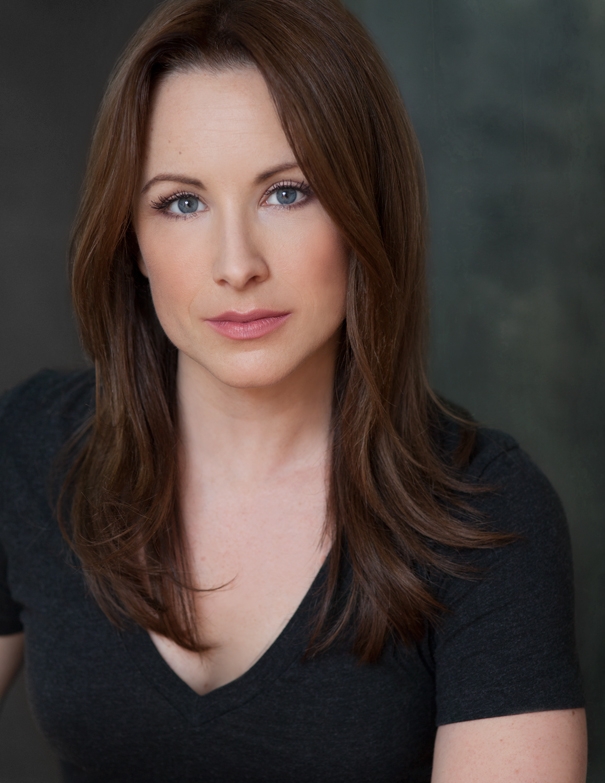 RH: What can we expect from Andrea in the upcoming Murder, She Baked film? Any behind-the-scenes moments you can share from this one?
LD: This time around, Andrea has become a mother, so she is quickly learning that she is more like Delores than she thought.
As for what happened behind the scenes, a cell phone was one of the saving graces on set when filming a scene with Hannah, Andrea and baby Tracy.  The little actress who played Tracy was so sweet, but of course, the scene required her to be on set right around naptime. She held it together so well, but finally began crying shortly after the camera rehearsal. Her dad kindly instructed me to keep the prop cell phone away from her until the moment the director called "Action". At the very last minute, I dangled it in front of her big blue eyes and the water works shut off instantly. It was amazing!
Since this film series seems to be pretty popular, what do you hope from future installments for Andrea? 
I would gladly welcome more insight into what parenthood looks like with Bill and Andrea with Lisa being part of the mix as the nanny. Toby Levins and Juliana Wimbles (who play Bill and Lisa) are both extremely funny people, so it would be so much fun to play with them more. But then again, that is always a little tough to pitch because it is Hannah's story and the writers need to stay within the guidelines of the books. So I guess that would be better served as a spin-off with The Todds!
You just made a film with Nikki DeLoach and Andrew Walker at Christmastime–A Dream of Christmas. It is unusual to cast the same three leads in a Hallmark movie within such a short time.
Well, I can tell you that we were all really excited when we found out we would be part of this project together.
A Dream of Christmas was so much fun with Nikki and Andrew, so this time it was like hearing you were going to camp again with your friends. I stayed with Nikki when I was in LA, I took Andrew to a Vancouver Canucks game with my hubby, and Nikki, Andrew and their spouses are friends back home. Legitimately, we all love to hang out together!
We have some ideas we are throwing around to take to Hallmark that would allow the three of us to keep our professional family together, so we shall keep you posted.
Now that you have made another Hallmark film together, what can you tell us about this film? Is it by any chance a sequel to the Christmas movie, or is it a completely different movie?
It is a completely different movie about baseball! Two people who get a second chance when life throws one of them a curveball – pun intended. It will air in April.
You also got to make Operation Christmas for Hallmark Movies & Mysteries. That film was one of the finest films I've ever seen to honor the work and sacrifice of the military. Did you do any kind of research for that film for your role? What was that filming experience like for you?
Thank you! Operation Christmas was something I was really happy to be part of because my great grandfather was in the army and my grandmother was in the navy. One of my best girlfriends is a pilot in the Canadian Military and she recently had to move her entire family across the country for her work. I understand that the lifestyle is not easy and it takes someone with insurmountable strength, dedication and compassion. I admire those who do it.
Filming with Tricia Helfer and Marc Blucas was so easy. I was a fan of them both for quite some time, so it was just icing on the cake that that they were both so funny!
As for the story, I love Nina Weinman's writing so it was very easy to see why everyone else felt a connection to it. It's understandable, as she has five more movies on the go this year. That woman is on fire!
You've mentioned that you would love to convince Hallmark to do some kind of musical movie. So many of the actors and actresses have incredible song/dance talents. Any chance this might be in the works? How can the fans help something like that to happen?
The great thing about Hallmark is that they really listen to their fans, so if people want it, it will happen one day.
I am a musical theatre brat, so I would love to make it happen! The fans would also need to be enthusiastic about what storyline they would like to see!
As a sidenote, Nikki DeLoach is a great singer/dancer, so I would insist she take part!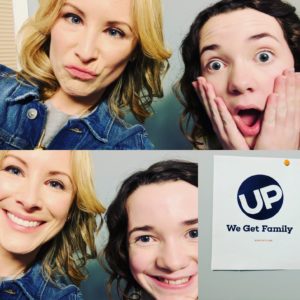 Date My Dad seems to be another one who is starring so many of my actor friends. I now find out that you're in it too! What can you tell us about your involvement with that show? 
Date My Dad is a new TV series on UPtv by Nina Coleman, starring Barry Watson (7th Heaven) and Raquel Welch. It's about a widower (Watson) who reluctantly gets back into the dating game based on the advice of his three daughters. I joined the cast in Episode two when "Rick" (Watson) dares to go out on his first date with "Katie", the single mom of three boys. The team behind it is top notch and I have no doubt it will be around for many more seasons! Season one starts June 2017 on UPtv.
 I understand you recently did a commercial with MC Hammer. How did you land that gig? What was that experience like? 
I had never done a commercial, so it was a nice little treat.  It was for 3M hooks.
MC Hammer turned out to be a very inspiring person and I spent a good portion of my day talking business with him. He has had a very unique path in this industry, so I jumped at the chance to pick his brain about his journey. I think there are moments in life that initially seem to come out of nowhere, but upon reflection, you realize that they happened for a reason.  I would say that learning from him was one of my top five"'life moments".
I know you were also a part of the web series Sunnyhearts Community Centre. How did you get involved with that? Do you know anything about the eventual future of that show?
Sunnyhearts Community Centre stars (and was written by) the hilarious and brilliant Sonja Bennett.  I worked with Sonja on a feature film called Preggoland in 2015. When she asked me to come play in her latest web series, I jumped at the chance. She is one of my favourite people overall,  so I would do pretty much anything she asks me to do. She has a very sassy and charismatic vibe about her and I love her writing. She is a total Canadian writing and acting gem. As for the future of the show, it currently remains as a great little web series.
Do you have any plans to release an album? Trust me, your fans would be ecstatic (I might be first in line to buy it if that happened!).
Ha! No. I think there are enough people in the music business hustling day after day to make a career out of it. I will pleasantly keep rocking out at home and in my car. Unless of course, James Corden comes knocking, then obviously I would sing in the car with him anytime. There you go, Hallmark musical cast member number three!
I will be co-hosting a charity event for the Vancouver Canucks Alumni this month with some high-profile country music talent and Odds. So we will see if they get me belting it out by the end of the night!
Any plans to write or direct in the near or eventual future?
I definitely want to get into directing, in the next five years. I am really excited about it to be honest. It is important to me that I take my time and learn how to do it properly. I firmly believe that each department carries different skills and I need to earn my place honestly.
A fan asked about your hockey involvement. What is your background with that sport? 
I got into hockey at age twelve when a couple of dads started a team for a bunch of us that had played Ringette together. I was hooked. I played all through junior high and high school and eventually was supposed to play college. But life had other plans and the film and TV world took over. I got back into it after a ten-year break and now play co-ed twice a week.  It really gave me the confidence to pursue a career in this business, as it taught me the value of time management, dedication and commitment to one's passion, not to mention understanding that what happens in the game is not personal, because there will always be another opportunity.
As an interviewer, one of the most amazing things for me is getting to reconnect with actors when I interview them subsequent times. In the case of Lisa, I was impressed with her last year, but my respect and admiration for her has grown exponentially as Lisa has immeasurably amplified her giftedness and in many ways, come into her own. Watching her genuine interactions with the fans and her heartfelt performances on-screen tend to engender within me an almost maternal pride at what she has been able to accomplish. (I can't help it! I'm a mother at heart!)  I had a sense last year that she was on the precipice of bona fide success, and to witness her career unfold in such a phenomenal way for her truly enlivens my heart. Lisa is one who is confident in her abilities and talents, but she never rests on her laurels, so to speak. She is willing to invest the work required of her to accomplish all of her hopes and dreams that rest within her heart, awaiting the perfect time for implementation. Lisa is content where she is, but she is consistently honing her craft and taking advantage of every opportunity that comes her way, whether seemingly inconsequential or decidedly noteworthy. Lisa knows the course on which she embarked when she made the decision to pursue her chosen profession, and she will not permit a solitary obstacle to impede her journey. Moreover, benevolence and tenderness continue to be the foundation of her inner beauty that irradiate her entire countenance (just look at that smile–it's so real!). I would invite everyone to tune in for the premiere of Murder, She Baked: Just Desserts this Sunday, March 26th on the Hallmark Movies & Mysteries Network in order to see what antics Lisa's character achieves in this next installment of this entertaining series. Furthermore, please check out Lisa's links below and consider following her, for if there is any actress who has earned the esteem of Hallmark viewers in the past year, it is definitely the gracious, humble, and sometimes uproariously funny Lisa!
FOLLOW LISA
Interested in subscribing to all my site's updates? Subscribe below!