I was never a "soaps" fan, so my apologies to those who are and can't believe that I only discovered Ali Sweeney a couple years ago when she started making films for Hallmark. Honestly, every film she has made for the Hallmark Channel and the Hallmark Movies & Mysteries Network has been virtual gold for the brand, and the viewers have been ecstatic about her films. I count myself as a definite fan, and every time I have interviewed one of her co-stars, I have been privy to such phenomenal things about Ali herself. It had been a desire of mine for some time to chat with her about the Murder, She Baked series, and as proof that dreams do come true, it happened! And here is the gracious and talented Ali herself as she responded to a wide variety of fan questions as well as a couple of inquisitive questions from yours truly.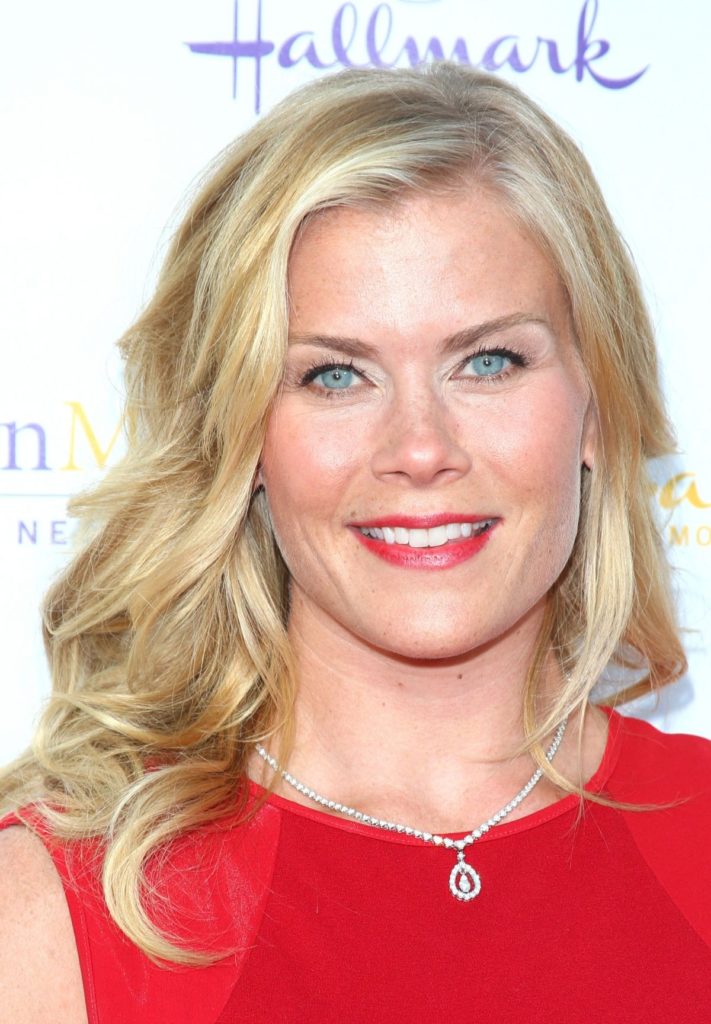 RH: Why did you decide to become an actress?
AS: I started acting at age four and I loved it right from the get-go. My mom would take me to auditions and we'd have the best time together.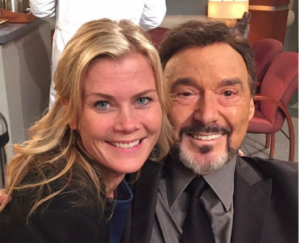 You have very devoted fans from when you were on Days of Our Lives. How has your time on that show shaped your career? Any chance you'll ever return to Days?
I've learned never to say never in daytime. The twenty plus years that I was on Days taught me a great work ethic and ingrained an ability to shoot a tremendous amount of material in short time spans. I believe in keeping doors open!
You have made some incredible Hallmark films. What first drew you to the network?  What do you appreciate about the network?
I love ROMCOMs and Hallmark is a great place for finding compelling stories and telling them in a family-friendly manner– which I appreciate. It's so fun to make movies that I can watch with my kids!
Love on the Air is still a film fans are passionate about. Why do you think that film resonated with the fans so much?
I fell in love with the script from the beginning and I acquired it to develop it into a TV movie. Hallmark loved it too, and I'm so proud of how it turned out.
How did you get involved with the Murder, She Baked series? Did you read the books before working on these films?
I became a big fan of Joanne Fluke's book series when Hallmark asked me to play the lead. It's so exciting to be a part of developing the stories for television with Hallmark Movies & Mysteries.
In the upcoming Murder, She Baked film, what can we anticipate from Hannah (without spoiling the story of course)?
Hannah is definitely up to her antics of rolling up her sleeves to solve the latest crime, but there's a lot of romance in this movie as well that I think fans will really love. I'm excited to hear what you think after watching this Sunday!
How are you like Hannah and how are you different?
Hannah and I are both inquisitive and love to bake, but she's a bit more daring in pursuing clues to solve crimes than I likely would be.
And the fans also want to know, "Are you #TeamMike?"
I'm #TeamMike and #TeamNorm…it's a tough choice!
Fans also loved The Irresistible Blueberry Farm. Any plans for a sequel? 
I loved making The Irresistible Blueberry Farm. Our cast and crew were fantastic and I was really proud of how the movie turned out and thrilled with the fan reactions. We don't have any plans for a sequel, but I am working on another movie for Hallmark that I hope to share details about shortly.
One thing I have heard from your co-stars is that in spite of how busy you are, they are amazed that you're able to do everything you do. What is the secret to balancing your career and family life?
Thank you. I work hard at finding the balance and part of that is with preparation. I make sure we're armed with healthy food options to make meal prep easy for when I'm home. I travel with healthy snacks to make sure I'm taking care of myself. I schedule my workouts like I schedule my meetings so I don't have an excuse. And I make sure we follow routines like brushing our teeth with Arm & Hammer Truly Radiant Toothpaste to ensure a strong and healthy smile. For me, routines are very helpful to keep on task and to not be overwhelmed by all that comes my way.
As you have moved into executive production and becoming an author, do you have plans to direct/write for the screen in the future?
I love every aspect of making a project. Whether directing or producing, it's so fun to shape the movie from behind the camera as well as my role as an actor. As I continue to challenge myself, writing and directing are definitely avenues I'd love to explore.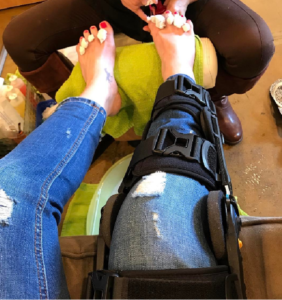 What has been one of the biggest fears or obstacles you have had to overcome?  How did you overcome it?
Last December, I tore several ligaments in my knee while I was skiing. It's been a tough recovery, but I've had to learn patience – that's a tough lesson!! I've realized that the physical and mental strength I'd built in the years prior helped me to handle the injury and now tackle the physical therapy.
If you could work with one or two people in the business that you haven't yet, whom would you choose?
I'd love to work with Kevin Spacey and Johnny Depp.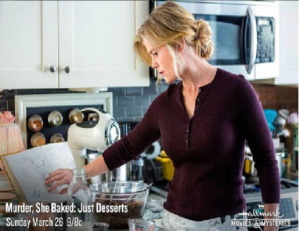 In keeping with the baking theme, what is your favorite thing to bake for your family?
My family and I love trying to bake different cookie recipes. They're super fun and with bite-size cookies, the portion control is easy to achieve…as long as you only take one!
In my opinion, Ali is one of those people you just can't help but love. I am often overwhelmed at all that is occurring in her busy life, and yet she still takes the time to thank a fan, engage in some work that makes a difference in other's lives, and even grant that special dream of one devoted Hallmark viewer in Washington state…. My entire family religiously watches Murder, She Baked and every one of Ali's Hallmark movies, and young or old, my family immeasurably adores every one of them. In fact, Ali is one of the few actresses that my mother knows by name, not just by face. Ali comes across as being a down-to-earth, benevolent, sweet, capable, strong, and energetic woman. Her talent has never inflated her ego, and I greatly respect the fact that she places her family and her health above all else. While she is fully committed to her professional career, she has scheduled things in her life in such a way that her priorities exquisitely fall into place. When obstacles threaten to impede this process, she deciphers a workaround, and she is not too proud to reach out and ask for help. You know that myth that "supermoms" try to feed us–that women should be able to do it ALL?! Well, Ali comes pretty close, but even she debunks the myth that you have to do it all by yourself or else you are weak and a failure. I know for a fact that Ali is easily one of the strongest, most successful, most beautiful, most talented, and yet most pragmatic and normal women in the entertainment world, and my respect has readily increased a hundredfold as she has openly shared her struggles in every area of her life, and most recently, with her physical injury. While nobody is perfect, I'm going to say that Ali comes pretty doggone close, and I tend to think that without batting an eyelash or thumbing a nose, anyone who has known her professionally and personally would agree two hundred percent! I invite everyone to tune in Sunday night, March 26th to the Hallmark Movies & Mysteries Network to watch the latest installment in the Murder, She Baked film saga subtitled Just Desserts. Furthermore, if you want to get to know the real Ali Sweeney (and I mean that sincerely), please follow her at all the links below and check out her amazing work and posts! I promise you that her pictures and inspiration are some of the most astounding things you will read and see as she practices what she preaches in the areas of health, balance, food, etc. I'm grateful to know there is only one Ali Sweeney, and she is doing everything within her power to be the best she can be. Consequently, this should inspire every man, woman, and child on the planet to be the best they can be and live their lives to the utmost every day! Thank you, Ali Sweeney, from the bottom of my heart!! You have no idea how many people you influence daily with your upbeat smiles and positive outlook!
FOLLOW ALI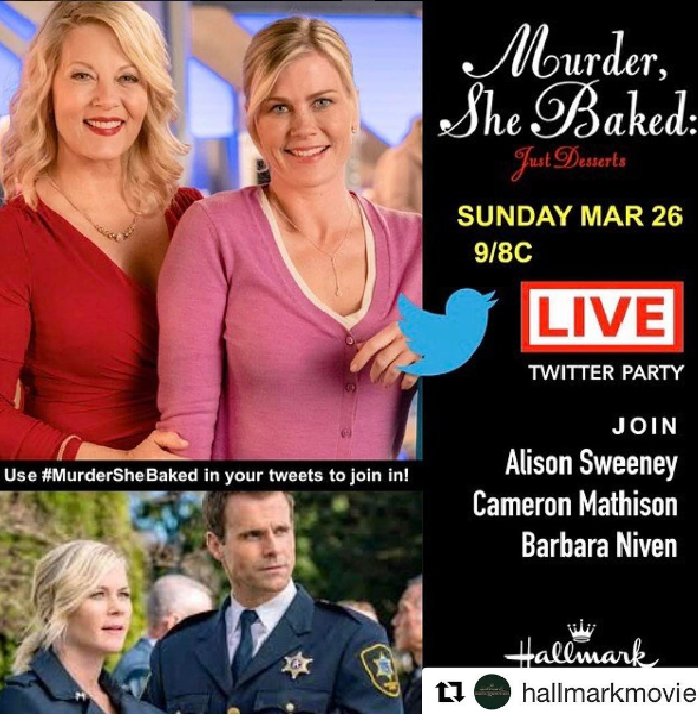 Interested in subscribing to all my site's updates? Subscribe below!