Hallmark viewers sometimes genuinely connect with supporting actors that are featured regularly in the network's films, and it just so happens that David Lewis is one of those fortunate guys. Although he never seems to play a lead nor get the girl, he has made a living by playing the supporting roles and doing a crackerjack job of it. Recently, the very busy David set aside some time to answer a few questions about how he got into acting, his notable works, and even a hint at what the future may hold for him.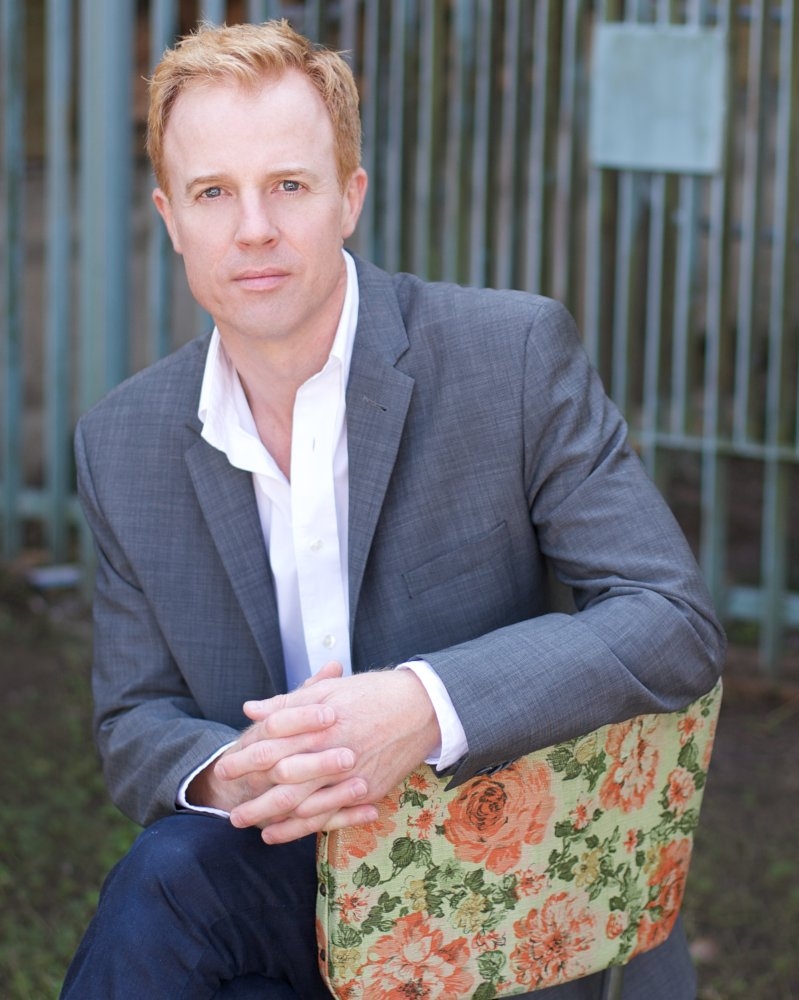 ​RH: Why did you decide to become an actor? What kind of training have you had?
DL: I started in high school. I thought drama would be an easy grade, and it turned out I was good at it and I liked it. After that, taking classes with local teachers. LOTS of short films. Learned a lot on the job.
I notice you were in the original X-Files.  That was early on in your career from what I can tell. How did that role come about, and what was that experience like for you?
Actually I was on The X-Files three times over its run in Vancouver. I auditioned for it like most actors. It's part of the process. Until you're well-established and they offer you roles, you audition for pretty much everything. It was fun. Although I was nervous at times, it was a great experience. I remember my day job was in retail and the store had a wall of TV's, and one night my episode played. Everyone crowded around and cheered when I came on screen.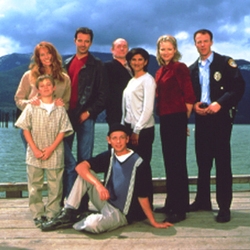 You have been in so many amazing things! What are a couple other stand-out series for you, and why do they stand out? 
I worked on a show called Hope Island. It was a lovely show about a pastor coming to take over a church on a small island off the coast of Washington State. I played Kevin, the local policeman. I was a regular for twenty-two episodes. I learned a lot and made some amazing friendships.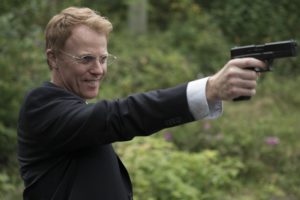 The other series I'm really proud of was the recently released Dirk Gently's Holistic Detective Agency. It just dropped on Netflix. A fantastic weird character for me to play. One of the most difficult and most rewarding.
I see a few holiday films throughout your career. Any of those particularly stand out? Why?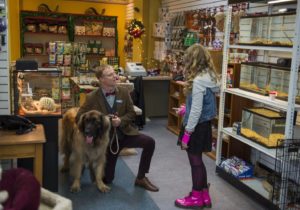 Probably my favourite was Grumpy Cat's Worst Christmas Ever. A kid's movie that my kids LOVED. They begged me to come to set to meet Grumpy Cat. I was a rock star for about twenty-two hours after that.
I am not certain, but it looks like Garage Sale Mystery: The Deadly Room was your first Hallmark film. What was it like playing opposite Lori Loughlin and working for the network? 
Hmmm, I think you might be right on this being my first Hallmark adventure. Loved it!! Hallmark has been great to me over the years. Lori Loughlin is wonderful. A total pro. Knows her stuff, ready to work and (Bonus!!) a nice person. Plus, I got to work with one of my favourite directors, Peter Deluise.
What was it like working with Ali Sweeney and Jonathan Scarfe in Love on the Air?
It was great! We had a lot of fun on that movie. I had worked with Jonathan's wife years earlier, but had never really worked with him and I recently just wrapped up a Hallmark movie with Alison. She's great! Talented and rather hilarious. I'll step in front of a camera with her anytime.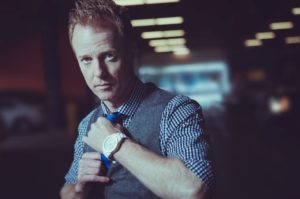 I know Alan Thicke was in Stop the Wedding. Please tell us your memories of him.
I played Alan's personal assistant in that movie. He was great to work with. Whenever the cameras stopped rolling, he had his phone out watching sports on a live feed. I was shocked at his passing. He was a very vibrant man. He will be missed.
Hallmark audiences recently saw you in The Birthday Wish. What did you enjoy most about your role in that one?
Two things. I got to re-team with the multi-talented Peter Deluise who cracks me up all day long. Also, I got to do a full-on comedic role. I was the guy looking for the punch lines in every scene. In my opinion, the job of an actor is to try and steal the scene. Not in a malicious way, but to give the scene more pop. It raises the bar. Let the leads do the heavy lifting; I'll just hang out over here looking for the punch line.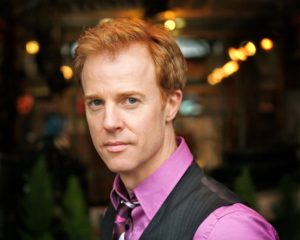 You were also in Man of Steel. How did that role come about? What was it like making that film?
Man of Steel was pretty awesome. I'm a comics nerd from waaaaaaaaaay back. I love that world so much that to get a chance to inhabit a character in a world of Super Men was a dream come true. I was on the last few days of shooting in Vancouver, so there was a feeling of closure on the set. It had been a long shoot, but the crew was proud of the movie they had made.
You are in so many amazing things that have just released or are coming up. What should be watching for/looking for?
I have a rather dark recurring role on the series Rogue that will start airing in the Spring. I just wrapped up a Hallmark murder mystery with Alison Sweeney, and I am currently working a Netflix series called Altered Carbon which I think is going to be huge!
You are also a writer/producer/director. Do you have plans to do more of that? 
For me, writing is very difficult. I need to be inspired to tell a story otherwise I feel like I'm just spinning my wheels. At this point, acting is my primary source of artistic release, but I'm always looking for a story. Lucky for me there are 7.1 billion stories out there…wow, I really need to start writing something.
If the story of your life was made into a movie, who would play you and any other principal roles? What network would carry it, or would it be in the cinema?  
Well because I'm an actor, my first thought is, "I need to work, so I'll be playing myself." Buuuuuut if I absolutely had to cast me, it would probably be Damian Lewis or Lebron James. We could play triplets!! It would probably play on Comedy Central or maybe a sci-fi channel because sometimes I feel like my life is waaaaay out there.
Honestly, I am incredibly grateful for everything I have in life. From my career to my kids to my amazingly youthful looks (clears throat and looks around). I am fortunate that I get to do what I want for a living. I get the opportunity to affect people at an emotional level and for that, I am honestly humbled that people would allow me that opportunity.
Thank you so much for letting me share some of my life.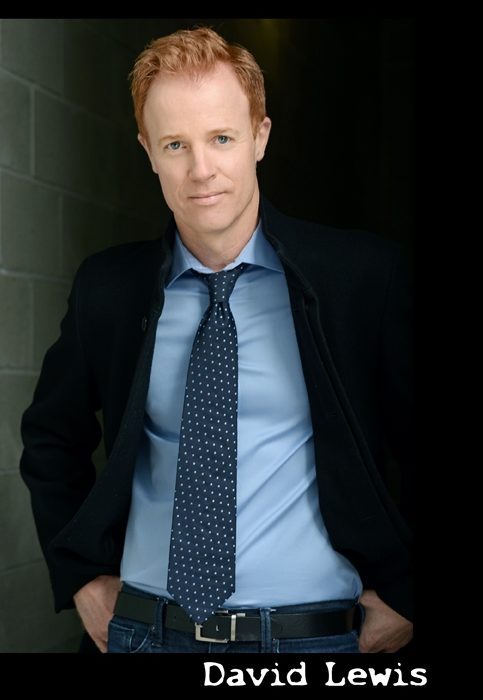 Even in these brief responses, David's characteristic wit and humble nature are ingenuously displayed in such a way that you just can't help but relish the man who continues to entertain and regale us year after year in so many robust works. It's simple for the viewer to be lost in the storyline that involves the lead and forget the supporting cast, and sometimes David plays the character who is vilified and oftentimes brought to justice in unusual ways. When the opening credits of a movie or a show bear the name David Lewis, we know it's going to be a phenomenal film.
In fact, permit me to quote a devoted Hallmark fan who says it better than I could myself:
"He is a highlight in any Hallmark movie he is in. Whenever I see that he will be in one of the movies, I know that he will be great. He adds a refreshing bit of snark and sass — but not in a negative way that would come across as too caustic for Hallmark — that we don't always see in family-friendly romantic comedies. His comedic timing is impeccable." –Sherry Edie
I may be a wordsmith, but that sums up David in a nutshell. I could probably elaborate on the myriad of roles in which I have been honored to see him, but in the final analysis, David, at his core, is a gifted actor who completely immerses himself in every role regardless of the size or temperament. Furthermore, his kindness, generosity, attention to detail and nuance, as well as his striking appearance and style that are uniquely his (which I do not say in a negative way) ensure his future success. Moreover, he doesn't have a big head, and he continues to be a working actor, something which elevates him significantly, in my opinion. So please take a gander at his links below, and be sure to watch for all his upcoming works, including the upcoming Murder, She Baked: Just Desserts on March 26 on the Hallmark Movies & Mysteries Network. Also, I would invite you to look up some of his other works as he is a versatile actor who has been in more shows and films than one might imagine. After all, there is bound to be something that will appeal to all fans out there, regardless of genre preference, and David is one who deserves our support one hundred percent as he continues to provide outstanding (and sometimes wacky) entertainment for the masses.