BESTSELLING AUTHOR RELEASES LATEST INSTALLMENT IN HER URBAN FANTASY SERIES
Stack a Deck explores the tough questions of a world gone wrong
DENVER, CO —   What if the Earth's ozone layer decayed? What if asteroids weren't destroyed by outer atmosphere and impacted us on on a regular basis? And what if the Earth's core slowed its rotation, leaving our planet completely out of sync with the gravitational pull of the moon? Bestselling author Sue Duff explores these terrifying questions in her latest installment of her urban fantasy series, Stack a Deck (Book Four in The Weir Chronicles).
As the epic story continues, Duff's main protagonist Ian Black learns how dangerous tyrannical ruler Aeros has become, and sees for himself the narcissist's impact on an entire planet. Ian is forced to turn his back on the Pur Weir and align himself with the rebels to rescue Rayne. But when he travels to Earth's alternate universe, he finds himself powerless and struggles to survive. Though, it is here that he, along with eager readers of the series, finally discover the true history of the Weir and his connection to Earth's imminent destruction.
"Stack A Deck was so challenging because I had to consider the worst future for Earth and ask the tough 'what if' questions," said Duff.
Stack a Deck is the fourth of five books in the Weir Chronicles, so fans of Duff's novels can anticipate an exciting close in the final chapter in 2018.
Out of hundreds of submissions, Duff's novel Fade to Black placed as a finalist in the Colorado Gold Writing Contest in 2011 and in 2015, her writing earned her the PEN Award from Rocky Mountain Fiction Writers.  Masks and Mirrors nabbed Duff a nomination for the 2015-2016 Independent Writer of the Year from Rocky Mountain Fiction Writers, and Sleight of Hand landed on the Denver Post Bestseller list in 2016.
Additionally, Duff has completed a short story entitled Duo'vr for the anthology TICK TOCK: Seven Tales of Time, which received the gold medal for Best Book Cover and silver medal for Best Anthology for the 2016 Colorado Independent Publishers Association EVVY Awards. The anthology also  was nominated for Best Anthology at the 2016 UTOPIA Con. A second anthology is on its way in 2017 and, in addition to the seven Wicked Ink authors short stories, it will feature two short-stories hand-selected from over 45 submissions received from writers all over the world.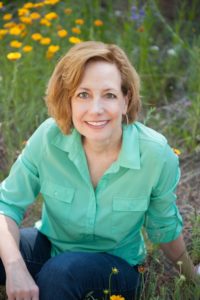 Author Biography of Sue Duff
Sue Duff has dreamed of dragons and spaceships before she could even read, so it's only natural that she now combines both fantasy and science fiction as her favorite genre.  Having written since high school, Duff never took it seriously until a skiing accident laid her up for an entire summer and she turned on the word processor to combat the boredom.
A few years later, her first urban fantasy novel, Fade to Black, was one of five finalists in the RMFW Colorado Gold Writing Contest. Duff's writing has also earned her a PEN Award, a nomination for 2015-2016 RMFW Independent Writer of the Year, three consecutive years as a featured panelist at Denver ComicCon and a coveted spot on the Denver Post Bestseller list.
She is the second oldest of six girls with an avid reader mom and her dad, the family's single drop of testosterone in a sea of estrogen.
By day, Duff is a dedicated speech-language therapist at an inner city school district, a career she pursued much in part to her aunt who got her hooked on stories of the profession when Duff was younger. She is passionate about the work she does and regularly works to help those students that need it the most.
Sue is a member of the Rocky Mountain Fiction Writers and The Pikes Peak Writers. She calls Colorado home and when not saving the world one page at a time, she can be found walking her great dane, getting her hands dirty in her garden, or creating something delicious in her kitchen.
Check out her blog, A Cook's Guide to Writing and other musings on her website.
Sue Duff – Writer     @sueduff55     Author Sue Duff
@sueduffauthor  Sue Duff  Newsletter
Guest Post by Sue Duff
I'm not great at coming up with ideas for blogs. Hard to believe for an author, I know, but it's true. Most of the ones I've written and posted on my website involve musings about my surroundings, my struggles with unwanted pests both in and outside my house, or my dog's knack for being the center of my universe. She's a Great Dane. Face it, she's hard to ignore.
For this blog, I finally came up with an idea that tickled my toes. I am self-published, and although I could talk forever about it, I decided to focus on one single aspect of it, and what has become one of my true loves. Book Covers.
They are so varied! They are all flat, so not all dimensions, but they come in so many designs! I've been known to spend hours in a book store just looking at one book cover after another. It wasn't until I began working with my cover artist, who calls herself a photo illustrator, that I have come to appreciate all that goes into creating an eye-catching, have-to-pull-it-off the shelf and-look-at-it-closer kind of book cover.
I've heard people say that you don't judge a book by its cover. Hogwash!  The cover is what catches our eye. Then we pull it off the shelf and turn it over to read the back-cover copy. If we're still intrigued, we open it up and read the first line, or perhaps the entire first page. IN THAT ORDER. It is a rare bird indeed that does not follow the beforementioned script.
Covers are vital to any book, especially print, but this also holds true for ebooks, audiobooks, etc. Yes, titles are important, and I've grabbed my fair share of amusing or intriguing titled books off a shelf, but it really is the cover that brings our arms up to reach toward a newly discovered prospect on the shelf.
All of which brings me to my book covers. I had one gentleman tell me, after staring at FADE TO BLACK's cover for several seconds, that he couldn't tell if it was fantasy or science fiction. "Yes," I replied. "That's because it's both." That truly was the hardest thing about coming up with the original, basic design for the series. My stories are based in a magical world and race, but because of circumstances (you'll have to read the series to find out why), they turn to modern science in a desperate attempt to perpetuate their dying race. With scary results, I need to add. That's what happens when your magical race is tied to the energies of the earth, and you start screwing around with your magical genes. Mother Nature doesn't like to be played with!
Now, to the point about being a self-published author. I get to have control over the concept of the covers, color scheme, final say on font, you name it. Luckily, I found an amazing artist by the name of Karri (her website is artbykarri.com, check her out!) who has a lot more talent in this department than I do. Karri takes my ideas and turns them into masterpieces! Every one of my book cover designs has blown me away. She's a dream to work with, and patient as hell, especially because I had no idea how everything worked when we collaborated on my first book cover. But I'm so proud of all my covers. Each one has a story behind it and why I chose the image to represent what you'll find inside. For FADE TO BLACK, Book One, my protagonist, Ian, is a moody teenage illusionist with real powers. You come to find out that he literally holds the fate of Earth in his hand. For MASKS AND MIRRORS, Book Two, you discover that a few of the characters are hiding dark secrets, while I reveal that Earth isn't the only planet impacted by my magical race. In the third book, SLEIGHT OF HAND, Ian's world come crashing down with the rook lying on its side, at the same time I reveal a character has been placed in Ian's inner circle, much like a Trojan horse. For the fourth book, STACK A DECK, the rebels gather new allies, stacking their deck against their deadly foe.
You'll have to stay tuned for the final book cover reveal, coming summer 2017! It'll be the final book in the series, and true to all the previous novels, a real scorcher! Check out my website at www.sueduff.com and sign up for my quarterly newsletter to get the latest news, giveaways and of course, have a front row seat for the latest cover!
Book #4 in The Weir Chronicles
Ian's alliance with the rebels brings the wrath of the Pur army crashing down on them, but he is forced to abandon his new allies and travels to Earth's alternate universe to rescue Rayne.  As Ian combs the strange, desolate planet in search for her, he discovers the true story of the Weir and his connection to Earth's imminent destruction.
Pre-order now through Amazon!
Catch up on the series by reading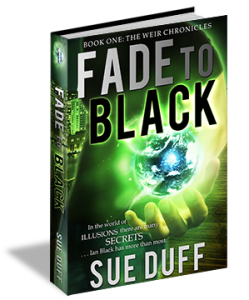 Fade to Black,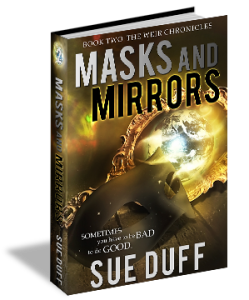 Masks and Mirrors and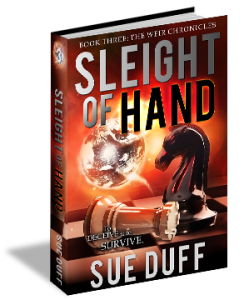 Sleight of Hand!
Love Audiobooks? You can also listen to Fade to Black through Audible.
Want more? Join The Weir Chronicles Fan List for exciting news and updates on special events, giveaways and upcoming books in the series!
Interested in subscribing to all my site's updates? Subscribe below!