EYES OF THE ROSHI is a film about choices. Saigon, 1973. A boy discovers a dead body on the side of the road. The decision he makes will haunt him until the end of his days….
The boy is grown, and now a fully realized Grandmaster far from his home. Adam Nguyen is a stranger in a strange land. A vengeful billionaire has unleashed a killer, and the fugitive grandmaster must overcome his reluctance, summon his inner warrior, and battle to protect his adopted home, and the ones he loves.
Light Age Films presents, Eyes of the Roshi, an entertaining movie with authentic karate do, Royal Yoga, and the grandmaster's own Raja teachings.
The inspiration and origination of the movie comes from Grandmaster Nguyen's own royal family lineage – a form of yoga and karate do they have been teaching for 1,000 years in Vietnam…and now, America.
Imagine Bruce Lee lived, and he's forty years older! Now picture Grandmaster Adam Nguyen! Real karate. Real Yoga. An intelligent script, and beautiful cinematography will all make Roshi an enjoyable action drama worth seeing again and again.
CONTENT ADVISORY
Please understand that this movie is not for everyone. If you are coming to this review with an eye for "family friendly entertainment," this is definitely not the film to see. There is plenty of graphic violence, profanity, implied sex, and much evil shown within this film. However, if you enjoy action/thrillers and the like, this film may be just your cup of tea, so to speak. It is intense, and it is jarring at times, but the message is always clear. So with that in mind, if you would like to see the trailer, please click here.
From the opening scene, this film gripped me like very few films do. After all, this is an indie film, but unlike many indie films I have seen, it has the look and feel of a regular feature film albeit with a smaller budget. I am not a regular viewer of action films, but as disturbing as the images were, I was convinced that this film would have a strong message about making choices–good or bad–and having to live with the consequences of those choices. Additionally, all of us have our own "personal demons" that haunt us until we deal with them (or until we die–whichever comes first), and until we face those pesky trolls that threaten to mar our daily joy, we cannot go on to live a productive life in this world.
I will admit that Roshi is the most captivating character. I loved that way that Grandmaster Adam Nguyen portrayed this sincere ingenue who has the reality of the world thrust upon him through circumstances that he didn't control. While I am not enthusiastic about blood, guts and gore, I am always thrilled by any kind of martial arts. I adored The Karate Kid (the original one, that is), and Walker, Texas Ranger, both of which regularly feature that kind of fighting. My daughter took karate when she was very young, and I was consistently fascinated by the skills she learned. I was enthralled with every fight in which Roshi was involved. I could have watched him the entire movie–he was that good. Needless to say, although Adam is new to film, I am convinced that his role is incredibly authentic and absolutely makes this movie exciting and human. I could relate to this man–not that I have experienced anything so heinous–but again, he has to settle his past, and as painful as the process is, if we accomplish it correctly and with the right motivation, we can emerge victorious. No, I won't spoil for you what happens at the conclusion of the film, but just know it is the ultimate stimulant and makes any potentially negative moments in the movie all worthwhile.
Most of the other characters are pure evil, and I say that without even a touch of sarcasm. I struggled to find heart or any redeeming qualities in the vast majority of the other major or supporting characters. Moreover, their dark natures are in such stark contrast to Roshi's pure nature that they seem even blacker than they might appear otherwise. I will say that if and when any of these characters get knocked off in the film, it is a moment for celebration. I won't say who dies, nor how, but I didn't form any long-lasting bonds with any of the bad guys. However, when it comes to acting, the men who protray these vulgar wretches do it with such skill that I might struggle to see any of them in a "good guy" role. Of course, the saving grace may be that they would probably look totally different if portraying a different role.
I must say that the character of Carey as played by Ethan Marten is exceptionally well done by this particular actor. If you check out Ethan on his IMDB page, you'll probably notice that he looks quite disparate in the role of this vicious, cold, and calculating hit man. I wanted to believe that maybe there was some good in Carey, but every time I turned around, I saw nothing but vulgarity in his eyes. In fact, it was virtually impossible to look away whenever Ethan's character was on screen. He maintains such an imposing presence, and although he is absolutely frightening and horrific in almost every frame, he is also mesmerizing. I hope this is not the last we have seen of such a phenomenal actor as Ethan, who completely immerses himself in a character and plays him without judgment–which is why the performance is so credible. We accept that Carey has no conscience, and nothing he does surprises us much. Oh, except maybe at the end….
Yet another bad dude who is probably just as evil as Carey, but he can sometimes play the game of being passable depending on what side you're on, is the character Booker, as played by Eric Roberts. If you want to "blow your mind," be sure you look up Eric on IMDB as he has over four hundred credits! Yes, I have seen him in other works, but this is certainly the first time I have seen him and realized I was seeing him, if that makes any sense. His character of Booker is irritating, chauvanistic, brutal, and pompous. What Booker has going for him is good looks–he is a ladies' man, for sure. But his personality is filled to overflowing with unmitigated filth, disgusting intentions, and bloodthirsty corruption. Maybe he had a conscience at one point in his life, but he has seared that by his raucous lifestyle that he has seemed to enjoy. Again, his character is riveting when on screen–a true testament to the prowess of Eric Roberts.
Like any criminal boss-type (at least he fancies he is the boss), he has a couple sidekicks, Marty and Itchy, played brilliantly by Jonathan Marten and Seth Marten respectively. If you are a fan of dark humor, you might enjoy the antics of these three together. I didn't like the characters well enough to truly appreciate the dark humor–I admit that I don't always get that kind of humor–but it didn't take away from my appreciation of the story. And it did not deter me from despising all three of these guys together. Itchy is a bit of knuckle-brain, but the sense that Marty has just makes him a bigger jerk. The three together do tend to bungle things now and then, and I really think that Booker would just like to knock them both off, but he sees them as being able to serve a certain purpose. Whether these three accomplish their objective is a reason I would recommend that you watch the film.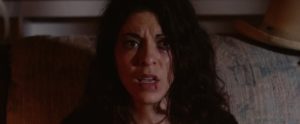 There are really only two female characters in the cast (with the exception of Roshi's beloved, that is), but one of them made a deep and genuine connection with me. Amanda Dunn plays the character Blanche, and her story touched my soul. For those who know me, they know that I came out of what could have been an abusive marriage, and I have become stronger as a result of leaving that destructive relationship behind. When I saw Blanche's predicament, I knew I had found the character that would engross me to no end.
And when Roshi comes to her rescue, my heart honestly did melt. Now, I do not claim to see this as some romantic drama, but it is nice that the writers chose to insert a vulnerable woman like Blanche into the story, and seeing these two together (Roshi and Blanche) is healing for both. They have something in common, and it was the most endearing part of the tale for me. No, Roshi is not a "knight in shining white armor," but thankfully, these two are able to help each other deal with the horrors of their past. In fact, in my opinion, had the "bad guys" done just that, they wouldn't be participating in all the horrendous acts and inflicting such pain, suffering, and misery on the others around them. So kudos to whomever chose to inject the storyline with such marvelous hope. And I was quite impressed with Amanda's portrayal of the troubled Blanche. She isn't an overdone damsel in distress, and these two on screen are enchanting in a special sort of way.
In conclusion, although my experience with action/thriller films is quite limited, this seems to be as violent and as action-packed as the vast majority of films out there in this genre, and if you enjoy this type of movie, this is a definite must-see. However, I would also recommend it to those who, like me, may not have a penchant for this movie style. If you are looking for a story where you will witness how people grapple with decisions and choices they have made and how they work it out with the hand they have been dealt in this life, I invite you to consider Eyes of the Roshi. Some make the decision to go the way of evil and revenge, while some take the high road and decide to work through their past sorrows and hurts to be better for it. If you can get past the more violent scenes of the film, there is a sincere and authentic story that will at least make you stop and consider the direction of your life.
For more information: