There's just something about Hallmark and Christmas. In our household, we typically watch little else but the Hallmark Channel during the holidays.  And if you ever wondered about the immensely gifted people bringing such joyful stories to us through the art of writing, permit me to introduce you to one of these extraordinary writers–Carley Smale. Recently, she agreed to answer a few questions about her career, including her most notable Hallmark works.
RH: What inspired you to pursue a career in the entertainment industry and especially as a screenwriter? What kind of training have you had to prepare for these jobs?
CS: Ever since I was a young kid, I have adored movies of all genres and have had a passion for writing and storytelling. But it wasn't until my grade twelve year in high school when I wrote and directed a short film that made it into a Toronto film festival that I began to wonder if this is what I should be doing. It was my media co-op teacher, Mr. Davies, that pushed me to consider it and told me I had an eye for it. Once I graduated high school, I began attending university for an English degree, but quickly realized I wanted to pursue film and decided to drop out and get my film degree at Humber College in Toronto. In my fourth and final year, I specialized in screenwriting and wrote my first feature length script as my thesis. The reason I chose to specialize in screenwriting over other areas in the film industry is because it allows me to have a creative voice that really fulfills me and that I otherwise probably wouldn't have. The ability to structure a story well, create engaging/complex characters, and find meaningful themes can be so powerful both on a grand scale and on a personal scale. Figuring out the best way to push a narrative forward so that it is memorable to an audience is such a fun challenge. I really love it.
Tell us about how The Christmas Parade came about?  What inspired you to write it? How did Hallmark pick it up?
During my fourth year of school, I interned at a production company that produced made-for-tv movies. Once I graduated, I was lucky enough to get hired by them and eventually became the director of development for all their Christmas content. Basically, the idea for Christmas Parade was developed by my boss at the time, and once Hallmark greenlit it, they needed a writer ASAP. I was lucky enough to get the call. I am forever grateful to my boss for giving me that chance. It has opened a lot of doors for me.
Also, tell us about On the Twelfth Day of Christmas?  Where did you get the idea, and how was it received?
Initially, the concept I came up with was called The 12 Cards of Christmas. Basically I thought the idea would work really great for Hallmark since it was based around cards. Then I just wrote a treatment for it (a two to ten page outline of what the movie is about) one weekend and showed my boss on the Monday. He was really into it and eventually sent it to Hallmark. Within a few days, it was greenlit and the next thing I knew, it was being made that summer. From what I remember, it was the number one TV movie of the weekend and had over three million views. That was really exciting.
As a screenwriter, how long does the process take from idea to submitting final script? Do you ever visit the set during filming?
In the TV movie world, things can go pretty fast. I'd say, from my experience, the whole process happens within a year. From idea, to outline, to script, all the way to post-production and the premiere. It's a very fast-paced world, and sometimes it feels overwhelming to keep up. With The Christmas Parade, I was only given two weeks to write the first draft, which is pretty insane. That definitely isn't the norm. In terms of visiting the set, I did get to go for The Christmas Parade. I was with my boyfriend at the time, and we were shown all around the set and met the cast and crew and were shuttled around to take pictures. It was a really special day.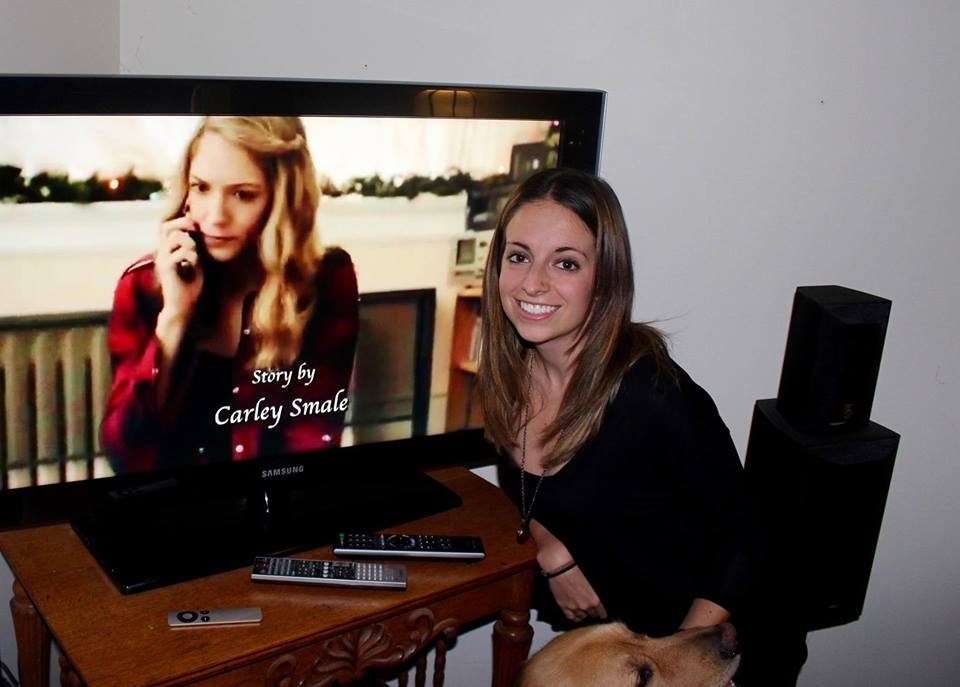 What is it like for you to see your words acted out in films? What are your feelings and thoughts while watching?
The first time I saw my name appear beside "Written By" for The Christmas Parade, I was at my aunt's house with all my cousins, my brothers, my mom, dad, aunts, uncles and everyone went all out for me. Champagne was popped, and everyone was so excited and encouraging. I will never forget that day. I think I just feel really lucky whenever I see my name in the credits of a movie, whether it's a short film, indie feature, or a TV movie. It's so cool to be a part of the process.
Because these films are often Christmas films filmed during a non-Christmas time, do you have to do anything to get into the Christmas spirit, especially when writing these?
Luckily, I really love Christmas a lot, so it doesn't take much. Usually I will find a three-hour playlist on YouTube that is just Christmas music and play it on a low volume while I write.
Any other upcoming works you can mention?
There are a few projects underway, but nothing I can reveal at this time unfortunately. Keep your eyes peeled for Christmas 2017 though!
Do you decorate for Christmas like they do in the films?
I definitely still decorate for Christmas. The Christmas tree is my favorite thing to decorate, and I always put white twinkling lights in my bedroom.
As you have done some other jobs in the industry, what are your favorite jobs to do? What are the most challenging?
I would say the most challenging yet most fun is screenwriting. It can be a bit overwhelming and lonely at times when all you have is yourself to blame when things aren't working well. Writer's block can be very draining. But when things are clicking and going right, it's such a great feeling. I also directed once as well, and that was so much work, but very gratifying as well.
There is practically nothing I love more than spotlighting people just like Carley, who are blissfully industrious behind the scenes to bring such beauty and warmth to light in clever Christmas tales that warm our hearts and charm our souls. As a writer myself, I always have unending respect for those in this profession, and I hold Carley in my highest esteem for her dedication to such heartfelt endeavors that are accomplished so impeccably. And we have to be somewhat kindred spirits if she adores the holidays as much as I. While we will all miss savoring a new Christmas offering from her creative spirit this year, we'll certainly revel in the ones that Hallmark will show throughout the season, and I, for one, can hardly wait till next year when she might bring the grandest and most vivid of her ventures to light to enthrall us once again. Be sure that you follow Carley at the links below so that you can rest assured that you will be well-informed when her films repeat this upcoming Yuletide season and when she brings us new ones to relish!
FOLLOW CARLEY
Interested in subscribing to all my site's updates? Subscribe below!