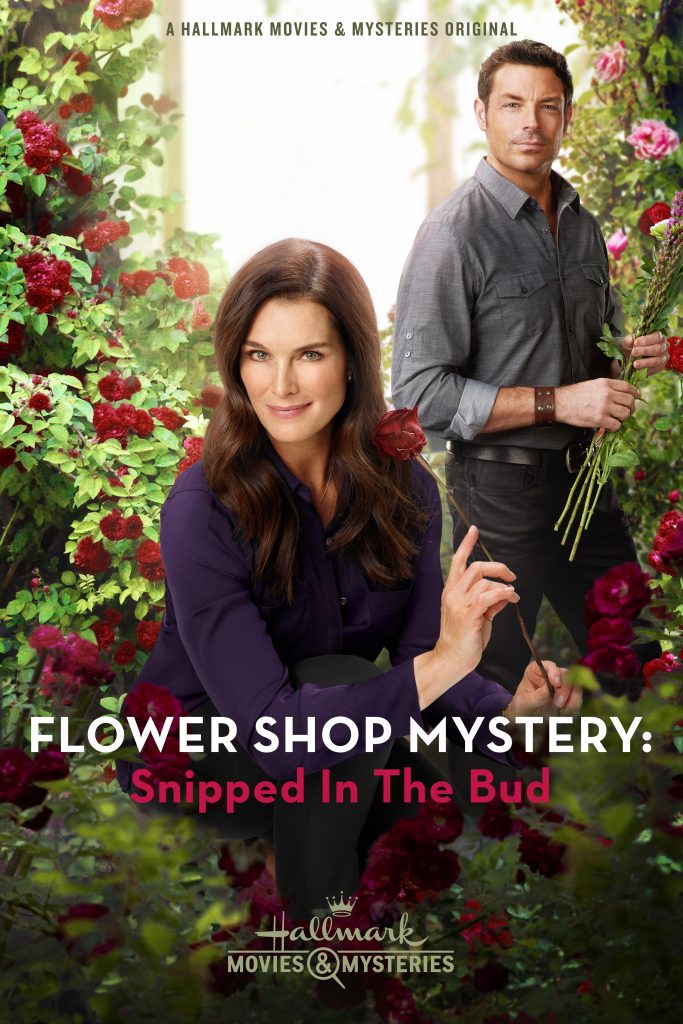 Abby Knight is a beautiful ex-attorney and proprietor of Bloomers, a quaint Illinois
flower shop. When she receives a mysterious order for black roses to be delivered to
the law department of the local university, Abby, having a colorful history with the
school and a daughter who is currently a student, decides to deliver the flowers
herself. Upon her arrival, Abby crosses paths with an old law school rival, only to find
him murdered in his office shortly after their encounter. When Abby's fingerprints are
found on the murder weapon, she becomes the chief suspect in a dramatic homicide
investigation, finding herself hounded by a hard-boiled detective and pursued by a
relentless reporter.
When things heat up and start looking bad for Abby, she decides to conduct her own
murder investigation, enlisting the support of Marco, a handsome bar owner and ex-private
investigator. With Marco's help, Abby gathers and interrogates a list of suspects,
including school faculty and their wives and lovers, each having a plausible motive for
committing the grisly crime. With a killer on the loose – and a budding romance with
Marco beginning to sizzle – the flower shop owner-turned-sleuth struggles to solve the
case and prove her innocence before it's too late.
[embedyt] http://www.youtube.com/watch?v=mgwemxRA8uQ[/embedyt]
Well, let's start with one of the most important characters to the plot. While Brooke Shields as Abby appears in this picture as well, I will review her incomparable performance a little bit later on. For now, I would like to concentrate on Professor Carson Howell as portrayed by Jeff.  The moment he inserts himself into the action, the viewers instantly know he is a bit of unsavory character. Not only does Jeff infuse Carson with subtle mannerisms that bespeak "womanizer," but Abby doesn't like him. As we are always on Abby's side, we instantly side with her. I am unfamiliar with Jeff as an actor, but he certainly fits this part well, not because he is like Carson–God forbid–but because he characterizes this small part well enough to deserve an honorable mention. Perhaps we will be privy to his talent again (but I doubt he will be back in this series–if you have yet to view the film, you will understand why once you see it).
Yet another professor–Professor Barnes as portrayed by the veteran actor, Daniel Kash. As I scanned his resplendent credits, I recognized a few here and there, and with his distinguished career, his playing this stodgy, no-nonsense, and somewhat arrogant professor is something that he makes look effortless and perfectly executed. His interactions with Abby (Brooke) are particularly humorous and impishly engaging for the viewers to watch unfold. At times, the suspicion for the overarching murder does fall upon this intellectual, but viewers will have to continue watching to the end to determine whether he is the guilty party. Daniel has the precise demeanor from the moment he invades the action until his final appearance on screen. It is definitely a case of ideal casting for this role.
As his beloved and alluring wife, Claire portrays this role of Jocelyn faultlessly. She appears to be the innocent in this complex puzzle, but viewers won't be certain of her potential implication until we reach the conclusion of the mystery. Yet another who has had an exceptionally noteworthy career (and one who will be seen in Good Witch this season, thus continuing her association with the Hallmark brand), she brings all of her expertise to this role. Her scenes with Marco (Brennan Elliott will be discussed in great detail later on in the review) are absolutely harmonious on the screen as she is the one who causes some marked jealousy in Abby. While there is no obvious chemistry between her and Marco, it is clear that Joceyln would not be opposed to it, thus demonstrating Claire's skill and sharp attention to her craft. Yet another actress who is in character from the moment she appears on screen until her last association with the story.
As I continue to examine the supporting cast of this dynamic film, I overwhelmingly understand the potency of this series. The powers that be continue to employ seasoned actors who fluently depict their roles with impeccable dedication. And this is true of Paulino, who plays the suspicious Detective Reilly. It would be difficult to imagine Abby every carrying out a murder, especially of a former friend, no matter how obnoxious he or she is. But Paulino is able to play that detective who is skilled at casting aspersion on everyone, including poor Abby. After all, she is a bit of a nuisance and won't leave well enough alone.  She has a motive, and Detective Reilly almost seems to derive noticeable gratification from considering her a suspect. There is no doubt that Paulino is an effective actor because it takes genuine acting capabilities to match the faculty of a tower of strength like Brooke Shields, and he does it with finesse.
I had to do some investigative work to discover who this fantastic actress was (and I knew I recognized her). Rachel Crawford is yet another actress with a notable repertoire of credits. I recognized several, and as Belinda, she demonstrates her fortitude and prowess in her splendid portrayal of the refined businesswoman without a chink in her armor. That is, until Abby begins to probe a bit herself. Could it be that Belinda is the murderer? I will not disclose the "who done it" of this story, but regardless, Rachel has created a character that is a veritable tour de force in this mystery. She matches wits with Brooke as only an accomplished and solid actress can. I greatly anticipate the day that Hallmark brings Rachel on as a lead in one of their films as she has the unquestioned acting chops for it.
Proving that he is more than just a pretty face, Ricardo expertly portrays Kenny, the boy who is kind of sweet on Abby's daughter (and safe to say, she's sweet on him, too). Don't underestimate Ricardo's character nor his ability to act with energy and passion. It may very well be that his character is ensnared in a web of deception as well, but is it his own fault, or is it merely circumstantial? His character is always so attentive to the needs of Sydney Knight (as played by Celeste), and he is consistently respectful towards Abby. In fact, he seems like a decent, young kid, and we can only hope that he is a help rather than a hindrance to the investigation.
I was ecstatic to see Celeste reprising her role as Sydney, and in this particular film, she has more than just a passing appearance. As she seems to have found a home amongst Hallmark films and shows, we can only hope that her sweet face and agreeable acting will continue to grace our screens for a long time to come. She and Brooke have several scenes together during this film, and she is the perfect daughter, who cares more about her mom's welfare than her own. She is ready for her mother to enter the dating scene again, and Marco seems like a great guy. She has her own potential love interest in Kenny, and Sydney even gets in on the excitement this time around. So definitely more than an honorable mention to a girl who was meant to play this role–Bravo, Celeste!
Of course, it is this quartet of characters (played by some of the most phenomenal actors in the business) who make this particular installment and series what it is. In this film, these four join together in an ingenious fashion to ultimately solve the crime. And the bonding is strong between all four actors. As with any series, the first one is often the most difficult, as the actors attempt to discover their character's footing. With this cast, very little footing had to be discovered, and due to the exceptional talent of all four, there is absolutely no criticism from me for this cast. In the first film, many said Brennan was too short for Brooke (even my mother did), and some even said their chemistry was not what it should have been. In Mum's the Word, Kate and Beau didn't have many scenes to develop their respective characters. However, in this episode, there is no doubt that any potential obstacles are "yesterday's news." (Yes, my mother even said she didn't notice the height issue this time–thank goodness.)
I have seen Beau in so many films and shows that I couldn't begin to list them here. However, this is a role that is "made in heaven" for him, as far as I'm concerned. As Abby's father (and a former policeman), he infuses just the right amount of intuitiveness and easygoing demeanor that viewers never question his veracity.
In fact, Jeffery wants a piece of the action this time, and he gets it. He and Marco bond brilliantly as well. I love watching Beau and Brennan together as they clicked from the beginning. Whenever the girls become a bit overpowering, Marco knows he always has Jeffery on his side. Jeffery always says what he means in no uncertain terms, and I think that is one reason why Marco and he hit it off so well. I am so glad to see Beau in this matchless role, and I look forward to seeing him in many more.
As I watch Kate in the role of Nikki, I have to say that I have such respect for what she does. Her journey to become an actress has helped to fashion her into the amazing actress she has become. I readily identify with Kate as Nikki, as her quirkiness appeals to my sense of humor. However, the viewers know that she always has Abby's best interest in mind. In fact, even Marco has learned that in order to capture Abby's heart, he must win over her best friend, Nikki. And he certainly steps it up this episode. There is no doubt that Nikki sees the benefits of having Marco around (even when he acts like a typical guy).
Whenever the viewers see Kate and Brooke together, there is absolutely no denying that their friendship and camaraderie is as real and genuine as it appears on screen. Yes, Abby and Nikki are the best of friends, but that kind of chemistry cannot be manufactured readily, if at all. And in the case of Kate and Brooke, their friendship rings true on screen and off. I simply adore seeing the depth of their character's friendship, and even more, the "girl power" they display in the presence of the two "clueless" guys. There is nothing like seeing mighty women join forces, and that is one reason Kate and Brooke are a favorite screen duo for me.
As Nikki takes a more active role in the mystery, it's fun to see the exhilaration that Kate infuses into her character. For Nikki, the murder investigation is the perfect advertisement for the shop. The publicity, even though it's negative, is beneficial for business, as far as she is concerned. As long as they are in no imminent danger, Nikki sees it all as an adventure.
Nikki is the perfect one to bring humor to those tense situations, and Kate has become a master at doing this in her scenes. One of my favorite scenes is how exuberant she becomes when she is concocting the possibilities of creating some kind of "revenge" flower business (the black roses are the spark for this idea). That is one point when I realized that maybe Nikki and I have more in common than I realized. Yikes, I could see myself doing something like that (but I think–or at least I hope–I would talk myself out of it later.)
Of course, the unquestioned star of the series is Brooke who has breathed life into Abby Knight in her signature way. As if I thought she couldn't get any better, she proved me wrong in this installment. Brooke has so embraced the role that any issues people may have had previously should have evaporated. She is the only one who could bring such credibility to the role of this perceptive, stalwart, and beautiful woman.
Whether Brooke shares the screen with Beau,
Brennan, or Kate, she illuminates the screen without taking anything away from the other actors in the scene. And that is the sign of a true professional, in my opinion. She has nothing to prove, and her only concern is for the good of the story, her character, and the other actors involved. There is nothing like an unbelievably talented actress who is humble and pragmatic, and Brooke is all that and more.
We gain great insight into Abby's relationship with her father during this installment, and Brooke and Beau relate to each other in just the way a father and daughter should. Again, both are impressively seasoned actors who seem to bring out the best in each other.
One of the things I truly find comical is the way in which Brooke portrays Abby as the gal that has it all together, but she does have her clumsy moments. Seeing the very accomplished Brooke trip and fall over things at the most inopportune times is so exceptionally well-played that they don't seem out of place at all. In fact, they add to the humor and enchantment of Brooke's character. So be sure to watch for an integral scene where this happens. It's hilarious in one sense, but it is also quite important to the overall plot. And Brooke plays it seamlessly.
This episode demonstrates that Abby has a plan, She is a former attorney after all, and she has not forgotten the lessons she learned from that profession.
Abby always has a plan, even if it is an ill-advised plan.
And it is Marco, who often gets swept up into her schemes. He has to come along for the ride, if for no other reason, than to protect Abby. She often does jump in without weighing the risks. Thankfully, she has the dependable Marco to rescue her from herself (and he does it again this time–more than once).
Of course, Marco is played by one of my all-time favorite actors–Brennan Elliott. Those who follow me closely know of my affinity for him as a person and an actor, and every time he is on screen, I declare he always gets better (I mean, how do you improve on perfection? Brennan does!).
While I was captivated with the chemistry between Brooke and Brennan during the first film, it was even more developed and dazzling in this film. Their chemistry is so easy. Brennan never has to authenticate himself in spite of Brooke's dominant character. And there are those moments where Brooke's character has those softer, feminine moments, where she does need him to come to her rescue. And he does as only the dashing Brennan can in the character of Marco Salvare.
The beauty in the relationship between Abby and Marco is that they both are comfortable with who they are, and they accept the other person exactly as is. Abby doesn't try to change Marco, and Marco wouldn't dream of trying to change Abby. It is that relationship that appeals to me because in this world, those kinds of relationships are few and far between. And to see the comfort with which Brooke and Brennan portray it means that as actors and people, they have a mutual trust, respect, and consideration for the other. Like iron sharpens iron, they bring out the best in each other. I always said Brennan had that knack, but there is no doubt that Brooke is the same way. No wonder they are so magical on the screen together.
When it comes to Brennan, I cannot give enough acclaim to this man for his phenomenal talent. He is the consummate actor, and versatility drips from his fingertips. There is not a single role he cannot play, as far as I am concerned, and in Marco, he has so embraced the role, that I find myself more captivated every time I see him. For him, he has never "arrived" in character. He is constantly attempting to better his craft, and it shows. He has poured so much of himself into Marco that it would appear that Marco Salvare is a living, breathing organism (and I guess, that in Brennan, Marco does live on screen).
While many might say I am far too biased to comment on Brennan's performance (and I am sure that is a valid point), but as a reviewer, I do go in with an open mind. If Brennan didn't take it seriously, not only would I know it, but the viewers and his fans would know it, too. Brennan has created a high standard for his acting, and every time we view his performance, we expect at least that caliber. If he does it halfway, we are going to know (and so will he). Therefore, while I go in expecting an extraordinary performance, Brennan always exceeds my expectations (and that is spoken in utter sincerity).  Additionally, he is an actor who is as modest as they come. He recognizes that, were it not for his fans, he wouldn't have a job. And he never grows tired of genuinely thanking his fans nor interacting with them. As far as I'm concerned, we need more actors like him in the business, but we are all grateful that we have him!
If you have not had the opportunity to watch this film, be sure you check it out on Hallmark's site, as they regularly replay it.
http://www.hallmarkmoviesandmysteries.com/flower-shop-mystery-snipped-in-the-bud