GETTING TO KNOW YOU, PART 2: Olivia is upset after learning Paul is leaving Cedar Cove, especially as he won't reveal his reason. She and Jack continue to work things out be she longs for him to open up more. Justine is hurt when she learns Luke wants to reenlist in the Navy, leaving their future in doubt. Warren's power struggle with his father, Buck, continues but his scheme to get the elder Saget to leave town. Grace and Cliff's wedding day brings together their family and friends for a celebration of their love, while Paul confesses to Olivia the shocking truth about his decision to leave Cedar Cove.
POTENTIAL SPOILER ALERT: As per normal, I do my utmost to ensure that my reviews are spoiler-free, but there is the chance that I will reveal something you did not previously know.  I endeavor to reveal only what Hallmark has revealed. If you are concerned about spoilers, please stop here and now, but otherwise, let's jump into the final episode of season three Cedar Cove
First of all, I didn't recognize Darryl Shuttleworth in this photo with Jesse Hutch. As I normally do, I researched and discovered he has appeared with both of my favorite actors, and when  I watch on Saturday , I will pay careful attention. After all, this is a pivotal scene for our beloved Luke. The concluding episodes of this season have given Jesse the opportunity to exhibit his impressive acting chops, and he is a willing participant in this season finale. I remember saying in an earlier review that Luke was over his PTSD, but maybe he is still coping with some issues that came as a result of his time in the military.
As his relationship with Justine (Sarah Smyth) hangs in the balance, be prepared for at least a "kiddie emotional rollercoaster" (I'll save the adult one for later). I believe their faces convey their emotions as these two actors have learned the significance of nuances in nonverbal communication, and their chemistry is still undeniable.  Hallmark is going to ensure that you want this sweet, young couple return next season. (For the record, there is no official word about season four, but I am assuming there will be.)
This is another kiddie rollercoaster ride that you can anticipate, dear reader.  Remember how last week Gloria (Tara Wilson) revealed her true indenitiy to her biological family? She was the long-lost daughter Roy (Mike Dopud) and Corrie (Sarah-Jane Redmond) gave up for adoption.  This news was also imparted to Linnette (Anna Van Hooft), and if you recall, it kind of rocked her world. Well, the world still hasn't settled for her, as you can imagine. There is something about dishonesty when it comes to families, and I think Roy and Corrie are having an unexpected family fallout for which they were not prepared.
In these last two episodes, Anna has truly come into her own. It is so dynamic to witness her character devlop a personality we didn't know she had. Up to this point, Linnette was the perky roommate who was kind to everyone and found Warren attractive. But as she has dealt with the potential dangers and then earth-shattering news about  Gloria and the semi-depressed Rebecca Jennings, this girl has gone into action. I wasn't too sure what I thought of Linnette for much of the season, and with new characters, I always think it takes time to discover your character's role in the framework of the show. Well, Anna has certainly accomplished just that. I can hardly wait to see what happens next season as it would appear not all is resolved within this family unit.
In this particular episode, Sarah-Jane and Mike both shine as the parents who don't comprehend why their girls aren't overjoyed with this once-hidden but now revealed secret.  I think they figured they weren't hurting anyone, but they now fear that this secret they had concealed for so long may cause an insurmountable rift within their family–something they both had tried to avoid. This is conclusively my favorite episode for this couple, and my heart truly went out to them. I can only hope that time will do what it does best–heal the festering wounds that this announcement has opened.
And what about Tara Wilson as Gloria? What can I say? The girl won me over a couple of episodes ago, and I greatly anticipate what will occur next season. This is a story that resonates with so many who know the emotional struggles and pain of adoption. Tara is the ideal Gloria, and I think you may be a bit surprised when you see who ultimately bonds with her character at the end of this episode. Judge Lockhart may have to intervene in this situation next season and help this family recover.
Were you as astonished as I last week when Maryellen (Elyse Levesque) and John (Giles Panton) got engaged?  I didn't see it coming, and I don't think Maryellen did either. As you can imagine, these two are effervescent about their future, and Maryellen is already planning her wedding. If you have a keen eye, you might have observed that Grace was a little perturbed last week. Those concerns won't go away any time soon. Again, this will have to be a story to be developed next season. Even though Giles is new to the role of John this year, these last two episodes have been his most choice of the season.  Elyse has been her same charming, enchanting self all season, but I quite partial to seeing her and Giles together. The chemistry they have on screen is undeniable, and I look forward to rooting for this couple and hopefully seeing their wedding next summer!
Of course, as her mother's maid of honor, Maryellen is radiant, gorgeous and pure poetic perfection. Elyse has always had an imposingly sweet presence on the screen, and as Grace's daughter, there could be no one else who could infuse both the vitality, sobriety, and mellifluence that Elyse exudes as this beautiful young lady.  Here's hoping she only ever goes to New York in the future to visit, not to live. Bringing her back this season was certainly an inspired move on Hallmark's part.
While it's clear that this photo features our beloved Alex and Paul, whom do I spy behind this "couple"? Methinks I see Warren (Brennan Elliott) and "Daddy" Saget (Tom Butler)! Permit me to focus on those two and Alex (Rebecca Marshall). I'm not prepared to deal with Paul just yet.
As you can imagine, poor Alex never did get the response from Paul that she was anticipating. You can see the awkwardness between these two, although it would appear that Alex is making the most of the situation. After all, she gets to sit next to the guy that she hopes one day to date a bit more steadily than just one date. In that dress, what man could deny her anything? Evidently, Paul needs a push, or does he? Well, more about him later.
As to Warren and his dad, this is what I would call a different kind of episode for both of them. Warren wasn't the sole focus last week, and he genuinely does take a backseat to the main event during this episode (probably not by choice thought). Poor Alex has become the intermediary for these two, and I think we began to see last week that she was not enjoying that role. With Warren and Buck, you have two very strong, stubborn men who are so pig-headed, they may drive each other away permanently. I have questioned Buck's motives all throughout the season, and although I am still  not a fan of "Dad" Saget, I have to say that it just may be that he redeems himself minimally during this episode. You be the judge of that, dear reader.
Be prepared for the conflict of the ages between Warren and his dad. All season long, Brennan and Tom have played off of each other brilliantly. No matter what Brennan brings to his character, it never phases Tom's character. In fact, Buck always has to be on top, and Warren is hoping just one time to hoodwink his dad. Not to spoil anything, but I think Buck and Warren are both going to owe Alex a debt of gratitude at the end of this episode.  I don't mean that the rivalry will end–we are talking about two egomaniacs. But there will be no cliffhanger concerning the Sagets. There might be a mini-rollercoaster concerning Paul's and Alex's potential future, but again, that's your call, not mine.
This trio of characters has come to hold a very special place in my heart. As I have said in previous reviews, Rebecca has masterfully created a living, breathing, multi-dimensional character who is enchanting, gorgeous, strong, opinionated, but above all, never precocious. Although the writers have handed her a meatier role this season, she is fully equipped for the task of interpreting this character in such a way that there will be a virtual riot if Alex doesn't come back next season (or if she tries to steal Jack from Olivia).
Tom Butler is the consummate senior Saget, but in this episode,  I think we will see a softer side of him that is quite unexpected.   And it is our beloved Alex that evolves into more than an arbitrator between these stubborn guys.  Truthfully, Warren has one of the best lines all season. (Okay, I know I say that regularly,  but since viewing the entire season, I can declare that this particular line Brennan's character utters with such delectable perfection to his dear old dad ranks with the top five lines I've ever heard Warren say. You'll understand why.)
What on earth can I say about Brennan Elliott that I haven't already voiced this season? He is flawless, debonair, and absolutely phenomenal as the charmingly flawed Warren Saget who only seeks the approval of his dad while maintaining his financial standing and sarcastic, aloof outer exterior. As we have seen all this season, we perceive that Warren has a heart. Furthermore, the way Brennan portrays Warren, how can you not love him? Granted, many people still have not come to the "dark side," but in my humble opinion, those people prefer taking the opposing view just for the sake of debate. I speak as one who did that last season.  I sometimes hang my head in embarrassment over some unkind tweets I sent about Warren. But I think that's the joy of this character. No matter what you may think of Warren, Brennan has done what I would have said was impossible–he has made Warren Saget the celebrity of Cedar Cove. While Olivia may give him a run for his money, there is no denying that it is the stylings of Brennan in this magnificently written, splendidly acted, delightfully misunderstood character who has stolen my heart this season. Certainly a far cry from season one when I would have cheered if they tarred and feathered him and rode him out-of-town on a rail. I gratefully and graciously bow to the superior talent of Brennan Elliott.
As one who has been #teamcliffandgrace from the first time Cowboy Cliff Harting appeared on the screen back in season one, this episode is the culmination of all those dreams and hopes at last coming to fruition. No doubt,  this is one of the most sagacious things Hallmark has done all season long with this show. After all, there is so much discontent over the relationship issues this season, it's a comfort to celebrate that one couple has risen above the chaos and demonstrated that true love indeed transcends all. At the end of the day, nothing is as important as finding the right person on this earth and sharing a lifetime love. These two have weathered a variety of storms, and finally we have the moment we have anticipated for so long!
I do believe all would nod in assent to the following statement. No woman is more beautiful than at her wedding where all her dreams come ultimately come true.  And Teryl Rothery makes one of the most resplendent brides I've ever seen. As Grace, she has had an adverse season and encountered things we never fathomed would stare her in the face. But in the end, Grace has emerged stronger than she ever believed she could be.  Teryl is indomitable as Grace, and seeing her character like this completely warms my heart like few things do. In truth, this has been the event I have been envisioning all season long.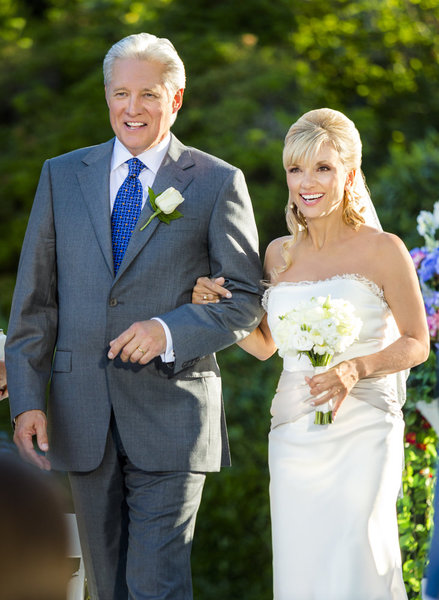 Ah, the moment of truth when Grace realizes the fathomless depth of  Cliff's love for her. I am not going to give any spoilers, but trust me, you are going to be overwhelmed like never before. After all, it was just last week that Grace and Cliff were bickering over where the wedding should take place, and Cliff actually called it a "circus," much to Grace's chagrin. Safe to say that on the arm of her good friend Bob Beldon (Bruce Boxleitner), there is nothing but joy on that gorgeous face of hers.
It's quite fitting that Bob would give Grace away, and there's nothing better than seeing Peggy (Barbara Niven) at Bob's side. As the one couple who have demonstrated the secret of a happy marriage for three seasons  (just say that Peggy is always right and let Bob whittle away his time at his carpentry hobby), it is such a delight to see them featured here. It also behooves us to remember that without these two, this day may never have happened. I cannot say enough about the stellar performances of Barbara and Bruce who just dazzle us week after week with authenticity, charm, true love, and a bit of humor.  While these two can't be at the top of my list (sorry Cliff and Grace claim that spot), these two hold a special place in my heart, and it wouldn't be Cedar Cove without the finesse of these two fine actors who disarm us each week with their sweetness, courage, and wit.
Lest you wonder about Jack (Dylan Neal), yet again he is battling his boss who has given into that age-old issue of nepotism. You can't fire the new guy because he's a relation of the boss.  It seems that Jack has faced much adversity this season, but he has always risen to the occasion. And with talent like Dylan, you never have to worry about the perilous stories. After all, Dylan takes whatever the writers give him, and he does what he does best. He puts his heart and soul into this complex character of Jack, and every week Dylan never fails to impress in this role.  And if you wonder about his connection with his fans? Well, he did it again. That's right–last week he stayed after the airing of the show and tweeted for quite some time. And, oh he was diabolical! The very idea that he would try to entice me to give spoilers to the other fans. It's a good thing Hallmark doesn't know–uh-oh, I may have just given his little secret away. Oh well, don't worry, Dylan, as I didn't reveal a thing no matter how much my friends implored me to. Your job is safe with Hallmark–at least I'm pretty certain it is since they must have a season four, and Jack just has to come back.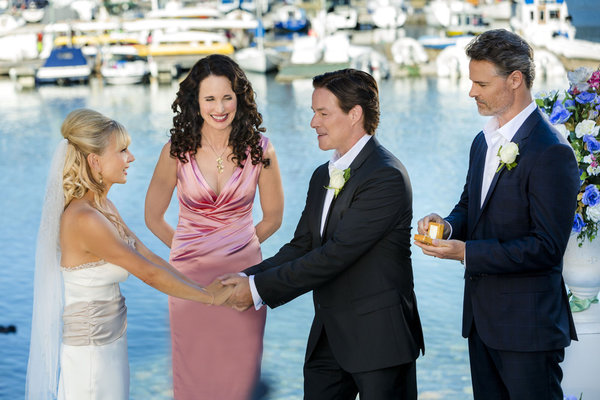 Now this picture might tend to throw you a bit. Look who Cliff's best man is! I didn't quite expect that, but I guess since Bob walked Grace down the aisle, there was really no one else who could fill in. I think is beyond awesome that Olivia officiates the ceremony. Now, while we're here, this is the ideal opportunity to mention Cliff and the darling man who plays him–Sebastian Spence. I want you to study his face and notice the flawless expression Sebastian has given to his character. Just as it should be in a wedding, there is no doubt on this planet that the only woman Cliff sees at that moment is Grace. The love on his face–if a man ever looked at me like that, I would melt. The authenticity Sebastian has yet again brought to this role, not to mention the charm, sincerity, and rugged good looks, is overwhelming. No wonder Cliff is everyone's favorite cowboy. And it would behoove everyone to remember that it is Sebastian's portrayal of Cliff that has made him so beloved. Quite honestly, I never loved a cowboy in my life until Cliff came along.
I think the smiles of these three imparts more knowledge than words ever could. Olivia is ecstatic to see her dearest friend finally marrying the man who Olivia knew was the consummate match from day one. Grace is awestruck that there is a man who loves her after her husband of so many years threw her aside like a worn-out dish rag. And Cliff–doesn't his smile remind you of a little boy on Christmas morning? Honestly, I have seen many pictures of Sebastian, but this is a smile I have never seen from him. Isn't is paradisiacal that he saved this expression for one of the most treasured characters he has ever played? There is no doubt in my mind that Sebastian categorically adores bringing Cliff to life, and I, for one, hope that Hallmark will continue to feature him in subsequent seasons as Cliff and Grace begin their lives together as husband and wife.
I sincerely hope Grace realizes that at this moment, she is the envy of all womankind.
And conversely, Cliff is the envy of all mankind. I will say that this is the most beautiful television wedding I have ever witnessed. I don't mean it is the grandest wedding–I mean it is the most beautiful and the most authentic, and there is no doubt that Teryl and Sebastian are the central reasons why that is the case. I have always said that their chemistry is something truly rare, and I think this undeniably proves it.
Now we can just hope and pray that Maryellen gets her picture-perfect wedding next season. (On a side-note, Cliff's smile is so wide he doesn't even need to face the camera! Well-played Sebastian! Bravo!)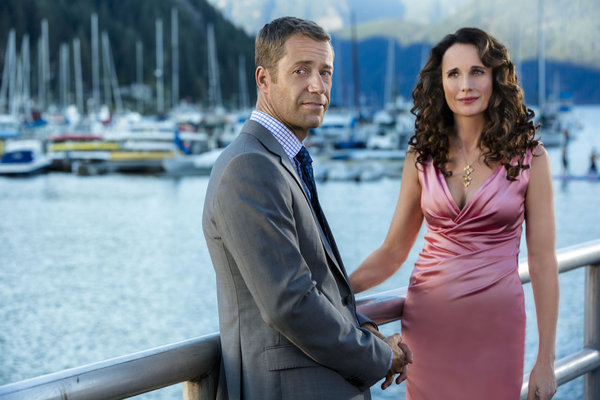 Unfortunately, I must now address the adult rollercoaster cliffhanger. If I weren't attempting to keep this spoiler-free, I'd reveal incredible details. But, dear reader, I have made the commitment to limit what I reveal. I will say I was shocked by the conclusion, but I suppose in retrospect, I shouldn't have been. After all, last week. Paul (Colin Ferguson) made the decision to leave Cedar Cove shortly after he heard that Jack and Olivia (Andie MacDowell) were moving in together. Oh, and if you're wondering about Will (Cameron Bancroft), safe to say I think I like the direction they took his character, and just wait until you hear what Jack says to him that will change the course of things. Good idea to pay attention to Olivia's reaction as well. Amazingly, I like Will now, and I look forward to seeing Cameron play him again in season four.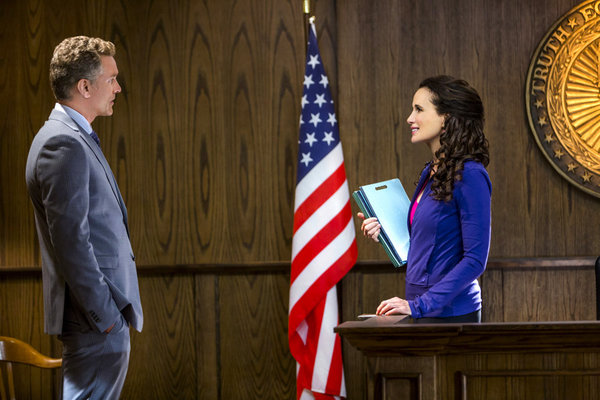 Quite sincerely, Olivia is taken by surprise when she hears that Paul is leaving. She has nothing against the former district attorney, but it is clear that Paul and Olivia have formed a special bond. She appreciates his humor, friendship, and just the fact that he is a "safe" person to talk to about anything. After all, he is new to the community, and he also has no romantic interest in her which I believe she finds refreshing.
One person who is glad he is leaving is Rebecca Jennings (Cindy Busby). After all, this will conclude her suspension, and she can return to working for a boss whom she can wrap around her little finger. But you might be interested to hear what she says as Paul bids her adieu. We definitely see yet another side of this ADA–she may have a heart after all. But I think she prefers to keep that softer side of hers well-concealed.
Without ruining the story at all, I will divulge to all of you that this was the most noteworthy but intense scene for these two all season long. While I disliked Colin in the beginning (it didn't help that his character seemed to be sweet on Olivia), his portrayal of Paul really grew on me.  He and Andie luxuriate in their scenes together on the screen, and together they delved into a different but lighter side of her character. With all the drama, seeing Paul and Olivia sharing a good laugh and some light-hearted moments was a veritable treat.
Before I saw this particular scene, I would have said that Colin couldn't play a dramatic scene. It seems like his character avoided emotion at all costs. Well, this scene thrusts it upon him. If you have seen the preview, you might guess what the theme of this conversation is. I don't want to give it away, but this scene literally brought me to tears, and I know I'll be crying when I see it again on Saturday. Seeing Colin tear up and then Andie–it was too much. This is a stellar scene, and they should probably win an Emmy for this scene alone it was that amazing.
And as for Andie, that woman is such a matchless actress that there are not words in this language (or any language, for that matter) to describe her prowess. She quickly rose to the top of the top of my list this year as I have become more familiar with her talent and even more so the fact that she has never let her fame go to her head. She is one of the sweetest and most genuine ladies in the entertainment world today, and her incredible versatility is practically legendary. Olivia Lockhart, as portrayed by the incomparable Andie, has become the cornerstone of Cedar Cove. Without her, there would be no Cedar Cove. Yes, I realize that Debbie Macomber and the talented writers are responsible for the dialogue, but without an actress who can deliver the lines effortlessly, authentically, and with stylish grace, where would we be? While Jack and Olivia are not my absolute favorite couple on the show, those two have my full support until the end of time.
So what is the cliffhanger about? Well, you probably have noticed the love triangle that has been forming over the course of the season. For a few episodes, Paul was no longer a threat. There were incredible hopes that he and Alex would make a match of it. And no doubt, Alex would jump at the chance if he showed the slightest interest.
But Hallmark is full cognizant of how to "play"  season finales. After all, without a wild rollercoaster ride and a cliffhanger that strains your heartstrings to the breaking point, who would clamor for another season? I will be honest that at the end of this episode, I was perplexed in the extreme. Unlike When Calls the Heart where there was no doubt who was destined to be together, I am feeling rather conflicted.  I believe I sympathize with Olivia, and I anxiously await her decision in season four. And that is all I will say. You'll have to watch on Saturday to reach your own conclusions.
For more information:
http://www.hallmarkchannel.com/cedar-cove
https://www.facebook.com/CedarCoveTV
http://twitter.com/cedarcovetv