GETTING TO KNOW YOU PART 1: After Jack moves in, Olivia realizes she knows little about his past, and his sudden reluctance to open up points to even bigger issues in their relationship. Grace puts the final touches on her wedding, but when Cliff thinks it's too extravagant, she wonders if their differences could spell disaster for their marriage. And as the whole town gathers in support of Peggy's latest fundraiser, Paul makes a bold confession that could prompt him to leave Cedar Cove, as revelations and surprises shake up this small town in the dramatic Season 3 finale. 
POTENTIAL SPOILER ALERT: About the time I decide to not post this disclaimer, I see people still claiming that I reveal too much in my reviews. I do my utmost not to reveal anything Hallmark has not made public. Please, if you are worried about ruining your viewing experience of this colossal series, stop reading now. If, however, you are ready to get to know this episode, let's do it now.
Can you believe this couple has been MIA for two weeks? Well the Beldons are back, and the good news is they will be on the roll call next week too. There is nothing like the sincere love, endless smiles, interactions and dialogue of this delightful couple. In fact, they are the couple that keeps us grounded when all the other love stories go terribly wrong and out of control. Peggy (Barbara Niven) and Bob (Bruce Boxleitner) are back with their clever wit and comedic timing, not to mention the love story of the ages their characters share.
It is actually Peggy who brings up the entire breast cancer fundraiser, and I believe that is quite fitting.  After all, Barbara is a committed activist for so many worthy causes outside of Cedar Cove.  It is an ideal fit to impart that same activism into her benevolent character. Some actresses would struggle to casually bring up the breast cancer awareness issue from the script–many might be a bit wooden and dispassionate. Not Barbara! I mean this woman does everything with passion, and when she talks about breast cancer, it makes perfect sense. Her ardency to eradicate this disease overflows her character's personality with flawless ease. Undoubtedly, this is her character's focus for the episode.
It is so remarkable to see these two resplendent ladies working side by side. Sometimes reality is mirrored in the script of Cedar Cove. Teryl Rothery and Barbara Niven are such fantastic friends, and seeing their characters work to organize this event is a dream come true. I doubt they had to do much acting to make this part of the story ring true.
Lest one forget, however, Grace and Cliff are supposed to be getting married. As so many people continue to ask me about every episode–"Is Cliff in this one?" Well, let me put your fears to rest, dear reader. If you are as much of a "Cliff Harting" fan as I, never fear– Sebastian Spence does return again in this episode. And just so you won't ask me, he's in next week's too. The focus of this week's storyline between Cliff and Grace is their upcoming wedding. As stated in the summary, these two are struggling to finalize the wedding plans. If you know anything about Cliff, it will not surprise you that he prefers things simple. And as far as Grace is concerned, she wants an extravagant wedding. Somehow, these two will have to make a compromise, but this may not be as uncomplicated as one might hope.
If you have observed Grace this season, you will know that she has questioned her feelings multitudinous times. She was almost engaged, then called if off, then accepted again.  As she has vacillated, she has suggested a big wedding, a small wedding, an elopement, and who knows what else. She claims to want to be surprised, and then she implores everyone to delineate every minutia. In addition to that, her role as town manager has kept her incredibly occupied. If this role were filled by any other woman but Grace Sherman (and if anyone but Teryl Rothery was portraying her), the lady would probably have a nervous breakdown and instantaneously flee to Fiji and forsake everyone and everything she loves. (Yes, that is an exaggeration, but I believe this conveys the general idea.) However, we are talking about Grace Sherman whom Cliff once described as being the "total package." Therefore, no matter what comes her way, she merely bends, never breaks. At times, she questions her sanity and whether she truly desires to be a bride again. But in the long run, we can rest assured that her heart will never lead her astray.
As to Cliff, well what can one say that hasn't already been said? One thing you know this season is that there is no other man on earth who could love Grace the way she needs to be loved. He is incredibly patient, but when more difficult words need to be spoken, he plunges heart-first into that task without hesitation.  After all, why should he not have a say in his wedding? Sure, the wedding is for the bride, but it's his day, too. Once in a while (like a man), he may say the wrong thing, but there is no doubt that at the end of the day, he would bend over backward for Grace.  Even more mesmerizing is the fact that Hallmark made such an intelligent casting choice in Sebastian for this role. I am more convinced of this fact every time I see him grace the screen as Cliff because the versatility of this man knows no bounds.  Although Cliff has made a few unexpected turns this season, he has always been prepared to face whatever challenges that arise. In fact, there is one thing about his performance in this particular episode that truly captivates me. As Cliff declares to Grace his aspirations and expectations concerning their upcoming nuptials, it strikes me that many actors would scramble to be gentle and charming as tension rises between him and Grace. In fact, I can conceive of a score of actors who might appear to be mean to Grace under such circumstances.  However, not so with Sebastian. Instead of emerging as mean-spirited or cruel, Sebastian plays Cliff in his same sweet, kind, caring, and sympathetic way. All you have to do is look at this master of emotion and facial expressions to see that he has crafted Cliff Harting in such a way that no matter the script, scene, or dialogue, we can discern the massive heart Sebastian has given Cliff.  Every time I see Sebastian as Cliff, I fall more in love with this ruggedly handsome and beloved cowboy with whom Grace will share the remainder of her life.  I hope she realizes she is the envy of all womankind.
Unfortunately, things seem to be going from bad to worse with Luke (Jesse Hutch) and Justine (Sarah Smyth). Since the bombshell Luke dropped about not wanting children, things have been rather tense for this enchanting couple.  But Justine has declared her love for Luke at last. What will be his response? No spoilers here, but I can say that rocky waters are probably ahead for them. Notwithstanding, this couple has been given a much more meaningful storyline which has allowed Sarah and Jesse their best opportunity all season to display their amazing acting prowess. When rainbows and unicorns are the only things that cross a couple's path, drama tends to be avoided.  Now that there's trouble in paradise, Sarah and Jesse get to take their characters on a virtual tour of the whole gamut of the emotional roller coaster. And these actors are definitely up to the challenge. As much as I abhor seeing a disconsolate Justine, Sarah displays some of the best acting from her that I have seen all season. Additionally, Jesse gave a new depth to Luke's character that made me wonder if his character has only scratched the surface as he unearths some of the deep-seated thoughts and feelings that are buried within him. It is going to take more thunderstorms to reveal this couple's rainbow, but with these two in the driver's seat, rest assured we are in good hands.
As you might remember, Olivia asked Jack to move in with her  last week. Finally, it seems that this couple is on the road to true love and commitment. Maybe a happy ending this season will come about for them at long last. Only time will tell. But if there is one actor who can bring him to life, it is Dylan Neal. In fact, there is a fan who said something very profound about this actor last weekend:
@DylanNealStudio@ruthhill74 But Dylan has given Jack a special identity that only Dylan could give him no matter where the scripts take him

— isabelle m (@izzy68) September 13, 2015
I want to thank Isabelle for these words as I told her that night I could not have said it any better.  It is the brilliant Dylan who has given Jack his voice, mannerisms, and most importantly his heart and soul.  Clever lines, brilliant direction, and even a talented crew falls flat without a superior actor like Dylan, and indeed he is. He gives Jack conviction and nonchalance, but as we know, it is his chemistry with his co-star that makes this show the phenomenon it is.
Speaking of conviction, you can bet that Jack's struggles at the newspaper are not over, and this one is going to potentially push Jack over the edge. No spoilers there, but again Dylan is perfectly suited to the challenge of bringing this cherished character to life no matter what his character does.
Anyone curious about poor Rebecca Jennings (Cindy Busby)?  It was with sorrow that we watched Paul suspend her last week, and as you can probably guess, she is not taking it well. Thankfully, she has two perky roommates (one overly so) who refuse to let her remain in her depressed state. It took me awhile to see Linnette (Anna Van Hooft) as the talented actress she is. Throughout most of the series, Linnette has been rather two-dimensional, but beginning last week, we began to see a bit more depth to her character. This is even more apparent this week. Finally, Anna is demonstrating just what she can do in front of the camera, and it makes her character much more fun to watch. With Linnette and Justine in the room, the despondent Rebecca doesn't stand a chance. This is absolutely a refreshingly humorous scene, and Cindy is the only actress who can bring this pessimist to life in her signature way.
Likewise, I absolutely adored the way Anna played her character in this particular scene. I think Justine's face says it all. This was probably my favorite scene with these two all season (at least, so far).
Of course, no community event is complete without Moon (Timothy Webber). Watch especially for another classic scene with Warren (Brennan Elliott). Thanks to the savvy writers, they have paired the unlikely characters of Moon and Warren more than once this season. Moreover, the scene between them in this episode certainly takes the cake. I believe both actors bring a new dimension to their respective characters.
At the fundraiser, a real surprise comes for Maryellen (Elyse Levesque). Over the course of this season, Maryellen has sincerely connected with the three female roommates (see, I told you that those two would get Rebecca out of her funk), but I don't believe any of them expect what happens. Seemingly out of nowhere, John returns from New York. Remember him? This season, the ultra-talented Giles Panton was chosen to portray him, and I must admit he has grown on me. I wasn't so sure at first, but as he became more comfortable with the character, I applaud Hallmark for their foresight.
I will admit that this was a shock. I hoped to see this couple reunited, but I things escalated much sooner than I expected. While Giles and Elyse haven't been on-screen much for me to judge their chemistry, I do think they make a handsome couple. And now that things are heading towards a more permanent situation, I think that when season four comes alone, these two may have quite a story between them. Both are certainly gifted actors, and they may just be the next young couple to watch.  Here's hoping for a season four where their love story can be explored in greater detail.
Lest anyone forget, the story of Gloria (Tara Wilson) is far from over. Since my last review, I have discovered just how amiable Tara Wilson is, and I have even seen her in something previously (Dress to Kill).  As I watched this beguiling story unfold, I was astounded with the way she played her role. I don't want to spoil anything, but I'm sure you've guessed Gloria's true identity.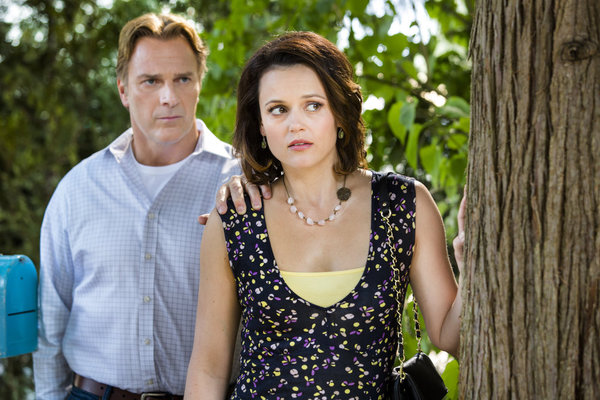 If not, be sure to watch as I can guarantee this story as well as Tara's sensitive acting and Mike Dopud's forceful personage will keep you absorbed. This story of adoption, deceit, and family dynamics take center stage in an entertainment world where vice is venerated.  Cedar Cove never sugarcoats the truth and is not a stranger to real-life topics, such as alcoholism, rape, domestic violence, and cyber bullying. I applaud the show for being willing to tackle such severe issues in a genuine but family friendly way.
These family issues spill over into the girl roommate's lives as well. If you haven't guessed, just know that Linnette is affected too, and the more I see Anna portray her role, the more depth I see to her character. I feel like possibly Anna has come into her own in this role, and I hope to see her back next season with an even meatier role as I believe she has "paid her dues."
Of course, Will (Cameron Bancroft) is on a journey of his own to prove to his sister that in the case of this car accident, he speaks only the truth. Because of his negligence, Olivia (Andie MacDowell) is now facing a potential legal fight aimed her way since her car was involved. Will makes an honest attempt to prove to his sister that he is right, but unfortunately, past experience is the best predictor of present behavior. Will is not a credible sort, and Olivia is attempted to side with this young couple (Remember the couple from last week in the domestic abuse case? They are back!)  I did say a couple of weeks ago that eventually I would have to stop hating Will because Cameron had been so pleasant to me. Well, the inevitable has happened, and although I don't love Will nor side with him, I no longer hate him (Cameron was overjoyed to hear this news by the way.) It does appear that Olivia wants to believe Will, but the couple appears to have hard evidence that backs up their claim. I must say that the interplay between Cameron and Andie has become quite a delectation to watch as Will is probably her character's potential "Waterloo." Thankfully, Olivia won't give up, and the tenacity which Andie brings to this character is a sheer rapture. I think Cameron must find gratification in playing Will as he seems to bring that easygoing way and nonchalance to this character who is definitely a thorn in Olivia's side.
Did you honestly think I'd forgotten about this trio? Absolutely not! Although I haven't really mentioned Tom Butler in my reviews all season,  I have sincerely fancied his portrayal of Buck Saget, Warren's somewhat absent father.  When Buck appeared during the premiere, I was convinced we were in for a wild ride this season, and I was absolutely right. As we have examined the interplay between Buck, Warren (Brennan Elliott), and Alex (Rebecca Marshall) this season, we have been able to ascertain so much more about what makes Warren function as he does. In so doing, I have become infatuated with Alex (once she and Jack were definitely not an item, that is), and the way in which Rebecca plays her can only be described as captivating, beautiful, and masterful.  Before this season, Alex was some wild rodeo girl who seemed to have no luck with men (which is why she decided Cliff should be her man).  Though she had a terrific body (and she still does by the way–that character wears the most gorgeous clothes, and Rebecca is such a radiant beauty anyway), Alex just had no personality. Until this season, that is. Thanks to the deftness of Rebecca, she has crafted Alex into a business savvy, no-nonsense woman who is loyal to her employer (Buck) no matter what. She is the only character who could tolerate the veritable circus Warren has orchestrated this season, and in this episode, she has reached the absolute pinnacle of her character.
Of course, I still believe that Brennan is the driving force behind so much of what has made this season successful. He and Rebecca have played off each other so expertly, and I think both inspire each other to new heights. Add a splash and dash of Tom, and you have a combination that is quite rare in the entertainment world. In this episode, it is undeniable that Warren's chief goal is to best his old man. He even attempts to recruit Alex to aid him in this scheme. You can imagine the fireworks, and you can visualize the rhapsodic way in which Brennan plays this part with whom he has come to be associated so closely (though he is a sweetheart–the polar opposite of his "Warren" character). Brennan is able to command every scene in which he appears, but he does it in such a way as to encourage the best in the other actors in the scene.  Furthermore, he never upstages them.  If you thought you had seen every side of Warren already this season, you would indeed be wrong. Just when I think I have seen Brennan at his utmost, he surprises me with even more clever acting, and Warren is the perfect vehicle to display this ability. I can honestly say that Hallmark is blessed to have one of the finest actors alive in this series playing one of the most complex characters on television today. It is undeniable that there  had better be a season four because I believe Brennan is not finished peeling away the layers of this diabolically cherubic character named Warren Saget.
Before I get to the character who is the unparalleled heart and soul of Cedar Cove as we know it. let me inform you of the most prominent surprise this season–Colin Ferguson who plays Paul Watson. In the beginning, I was decidedly unimpressed. I felt that his character was quite static, and, well, his character was scheming to steal Olivia away from Jack. But since Barbara Niven told me to keep an open mind (and I do try to be a fair reviewer), I decided to give this character a chance. I'll admit that it was his disarming sense of humor that first captured my heart, and as I sensed Colin becoming more comfortable in his role (at least, that's how I saw it–I think it is really hard for an actor to jump in on an established show and create a new character that will connect with the audience), I found myself warming up to him. I still wanted his character to stay away from Olivia, but I enjoyed seeing the lighter side of the very serious Judge Lockhart. The ease with which Andie and Colin played every scene this season persuade me that he was an integral part of the series. Of course, the fact that Colin is easy on the eyes and makes his acting look effortless and seamless only adds to my adoration for him.
In my opinion, it is the finale where I believe Colin's character is finally established.  As Jack and Olivia have made the choice to move in together, Paul appears rather distraught.  I don't want to spoil anything for you, but I can say there is almost no one else in the cast who can achieve the goal  of appearing incredibly uncomfortable as Colin can when it comes to emotional scenes. The depth that I saw him begin to bring to Paul was truly riveting. The performance that begins in part one only gets better with part two. Suffice it to say, Hallmark made the right decision in adding Colin Ferguson to the cast of Cedar Cove this season, and all I can say is–fasten your seatbelts for next week. Enjoy this week's show, but be sure to watch out for the facial expressions and body language nuances that Colin has added so perfectly in this week's episode. Does Paul ever go on another date with Alex? You'll have to watch to find out. Just know that this finale ultimately has caused me to become a true Colin Ferguson fan, and I will happily write more next week.  Oh, and by the way, since Bob Beldon is back, be sure to watch out for the wonderfully humorous scenes between him and Paul. After all, the threat has been removed since Jack and Olivia are a couple again, and I do relish seeing Bruce and Colin in scenes where Colin's character is not being vilified.
I think it quite fitting that I close out this week's review with Olivia. Yet again, Andie plays her impeccably, and these past few episodes have been ones in which her radiance has sparkled like no other. In this episode, as you can see, she and Grace are beginning to unpack Jack's things.
And indeed, it looks like there are quite some intriguing treasures. Unfortunately, it would seem that seeing the contents of these boxes has birthed yet another worry in Olivia's head. Just how well does she know Jack? Is he truly being open with her about everything? She knows from pas experience that Jack has concealed important things from her before. And it is true that Jack is a complex character. The combination of the stellar writers and Dylan's phenomenal acting has created such a character that Olivia is struggling to know the genuine Jack that most of the world does not.
As you can imagine, the situation does escalate for Olivia, but she does the most intelligent thing she could do–she opens up to Jack about it, as you can see here. It's heartwarming to see this new frankness in their relationship, and we can only hope that a compromise is in the works. More than anything else, we know that almost without exception, everyone wants things to work out for Olivia and Jack this time. I would venture to say that ninety-nine percent of the residents of Cedar Cove are cheering for them, and the one percent leftover is probably not worth thinking about.
I cannot tell you just how impressive and masterful Andie's portrayal of Olivia is throughout this season but especially in this finale. I always think I have seen the entire range of Andie's acting, and then just like the professional she is, she brings her character to new depths and new heights. Enjoy the heights this week, dear reader, because something tells me there is rough water ahead. Thankfully, with Olivia at the heart of everything, we are practically guaranteed that everything will work out for the best. Add in the uncommonly authentic way in which Andie brings this elegant, wise, tender, and soft-spoken woman to life, and I do believe you have something special that cannot be found on any show on any network anywhere else. Andie MacDowell and her kind heart and soul are the original driving force behind the success of this series, and I am so grateful and honored to promote the magnificent craft of this gentle, sweet, and immensely beneficent woman (not to mention talented). Very rarely do I see an actor who so immerses himself/herself in a role that I can declare in no uncertain terms that this actor was born to play this role. However, in Andie's case, I have no trouble making such a statement.  Hallmark has such a treasure in this woman, and I am so thankful to have the privilege to connect with her on even the smallest of levels. I promise you, dear reader, Andie's performance will not disappoint you.
So what are you watching Saturday night? Cedar Cove, of course, on the Hallmark Channel. It will be the best hour of television you have seen in ages.
For more information:
http://www.hallmarkchannel.com/cedar-cove
https://www.facebook.com/CedarCoveTV
http://twitter.com/cedarcovetv
Interested in subscribing to all my site's updates? Subscribe below!