CEDAR COVE – GUESS WHO'S COMING TO DINNER – Olivia plans a dinner party to welcome Paul to Cedar Cove, but when her brother Will arrives uninvited, the siblings clash over their different ideas about the future of their mother's house. While Olivia and Will head toward the courtroom to settle their family dispute, Grace faces a difficult choice about her engagement to Cliff, Warren is challenged to let go of his past when he receives a surprise visitor and Jack's growing friendship with Alex pulls him further apart from Olivia than ever before.
POTENTIAL SPOILER ALERT
As always, I am stating that  even though my reviews are typically spoiler-free, it is assumed that you have seen the other episodes this season.  Moreover, anything that is revealed here has been revealed and/or alluded to elsewhere by Hallmark itself. If you are worried, please do not read on. Otherwise, here we go!
If this picture doesn't capture your attention, I doubt anything will. This particular scene is the source of the title of the episode, and as you can ascertain, most of the important characters are present and accounted for. As it says in the summary, Olivia is having a big dinner to welcome Paul Watson to Cedar Cove. Interestingly enough, two people are not invited. Unfortunately, those two "crash" the party, and hence, this picture.
For the real #COVErs out there, what's wrong with this picture? Well, as you have probably guessed, Olivia (Andie MacDowell) and Paul (Colin Ferguson) are continuing their "friendly" meetings. And as usual, Andie plays Olivia in her most diverting and engaging way. However, I have to say that my feelings towards  Paul (Colin Ferguson) have moderated a bit. He treats Olivia with immense respect and suffice it to say, Olivia is enjoying his attention. And what woman wouldn't? What I thoroughly appreciate about this duo is that I am able to determine exactly what their characters want by observing their expression, body language, and tone of voice. Andie plays Olivia in such a way that we are certain she is not thinking about romance with Paul. In fact, she is probably not thinking much about romance or love in any sense with either man in her life as she has no idea if or when she can ever trust Jack again. Oh, we know she loves him–just watch Olivia's face as she doesn't conceal her emotions well whenever Jack is is near her.  On the flip side, Colin's portrayal of Pau is exactly what it should be–restrained, careful, but trying to establish just how far Olivia will let him go.
From the inception of the series, I have only ever desired for Olivia and Jack to be together. I will admit this was a painfully difficult scene to watch. While Colin and Andie play this golf scene beautifully as they are so cute together, it's also so agonizing to sit there and wonder if Olivia and Jack will ever get back together. Then I remind myself–this is Hallmark. During When Calls the Heart, I was the one who always reminded all my fellow #Hearties of just that fact when it looked like Jack and Elizabeth weren't going to be together. So in spite of how things appear,  I will take my own advice and stop worrying about an eventual "happily ever after" for this favored couple.  At least there is hope for Jack and Olivia. As I keep saying, it is going to take a while for trust to be restored. When you feel distressed over this episode, merely take a deep breath and mutter to yourself, "Everything is going to be all right."
I have to admit that I initially missed the fact that Alex (Rebecca Marshall) and Jack (Dylan Neal) shared a common issue–alcoholism. So as they both continue to attend Alcoholics Anonymous together, they begin to form an unusual bond. And I will say, this pairing was a big shock to me. While there is nothing romantic between the characters (in fact, I don't think either of them see it that way), it's sometimes irritating to see how much time these two are spending together. Now, I do relish the fact that Jack comes and offers his aid in Alex's time of need (oh that is such a marvelous scene–Warren is a part of it too, but more about him later).  Their bond only is further cemented by the fact that they both work for "impossible bosses." One of the most trying things to witness is the two of them enjoying each other's company. And toward the end of the episode, Jack and Olivia fans are not going to be happy. But remember–it's Hallmark!
As to the acting of these two, Dylan and Rebecca are absolute masters on the screen. Until this season, as I had mentioned, I had no idea Rebecca could act with such credibility and heart as she does. And anyone who can match Warren (Brennan Elliott) on the screen receives my highest praise. As to Dylan, the only thing I really miss with him is his easy and natural chemistry with Andie. Other than that, Dylan brings his "A game" as he always does.
As a matter of fact, this is possibly my favorite scene in the entire episode. I don't know what it is, but whenever Brennan and Dylan have a "face-off" on the screen, it is singularly delightful to watch.  I always adored their interactions last season, and I wasn't sure they would have cause to have another altercation this season. I know off the screen, these two are good friends, but on the screen when they are in character, the contention is heightened to unparalleled levels. And if you thought Jack hated Warren before, oh dear, just wait! The writers again have given these two actors perfect dialogue which they deliver with sheer perfection. No spoilers, but keep your eyes open.
My least favorite character this season is definitely Will, Olivia's wayward brother. Sometimes I struggle to divorce this character from the actor (Cameron Bancroft) who plays him because he does it so well. I must concur there is no doubt he plays this character flawlessly as my feeling towards him mirror those of Olivia. And some of my treasured interactions in the episode are between theses siblings. Andie plays her part so conclusively as her entire countenance does not belie the fact that she has no patience with this brother who has been a thorn in her side for so long.  However, there is no doubt she will fight for what she believes in, and she refuses to permit anyone or anything to bar her way.  Both characters butt heads regularly, and as usual, Andie is able to act in such a way to feature the talents of Cameron in the absolute best light.  I always find that the most quintessential actors are able to draw the most outstanding performances out of everyone, and she certainly does accomplish that feat.
Although Peggy and Bob don't figure into this episode as much, the portions where they appear are fabulous. Bob (Bruce Boxleitner) is still suspicious of the new D.A. (as he should be), and I delight in those interactions as Peggy (Barbara Niven) thinks Paul is an incredible person.  The interactions between Bruce and Colin are responsible for interjecting much-needed lightness and humor into what could be a very tense episode. At least someone is watching out for Jack!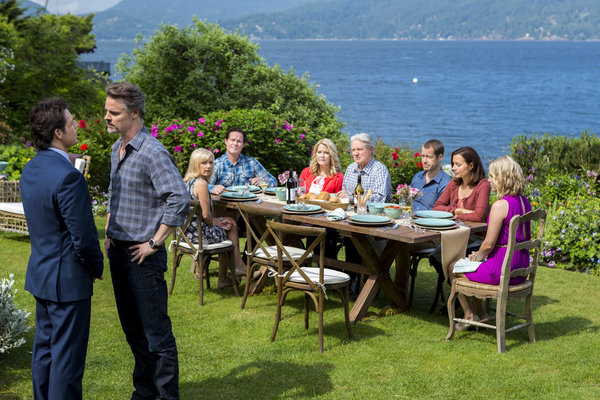 We don't get to see Justine or Luke as much during this episode either, but I have to say that Justine has a fantastic part with the special guest star, Laura Mennell, in this episode. I'm not at liberty to discuss Laura's part other than her character of Kelly is a part of Warren's past, and her role is absolutely brilliant (I will cover her part more next week). What I can say is that Justine and Kelly have some tremendous dialogue in Warren's office that is sheer heaven for those who don't like Warren (pure pain for true #Warrenites).  Many would say Warren gets exactly what he deserves, but one must remember just how misunderstood poor Warren is. Regardless, it is a scene in which Sarah, Laura, and Brennan truly shine, so be sure to watch for it.  If you are wondering about Luke (Jesse Hutch) and Justine, there's some tension created between them due to Warren as well. (Warren is certainly wreaking havoc, isn't he?)
As you might remember, Cliff (Sebastian Spence) proposed to Grace (Teryl Rothery), but she has yet to put on the engagement ring. She told Olivia that she is engaged, but I think Grace is afraid to jump back into a marriage since her first one ended so tragically. As you see in this picture, it is decidedly a pivotal one for Grace. Yes, she is wearing the ring, and Olivia looks rather happy. But I do invite you to look at Grace's face. Teryl does play Grace exceptionally well as you only have to look at her to know exactly how she feels and often what she's thinking. No spoilers, but know that this doesn't guarantee a happy ending for Cliff and Grace at the end of this episode. But again, remember, this is Hallmark. (I think that's become my new mantra.)
I will admit that this has been a different kind of year for Cliff and Grace. I don't mean that I don't like this couple any more–quite the contrary. When it comes to the couples in the show, they are still my favorite couple (all you have to do is see all the fan art I create for them every day to know where I stand with this special couple).  If you have been following their story, you know that Cliff proposed to Grace during the season premiere.  At the time, I have to say I was rather surprised as it just didn't seem like Cliff's style, but under the circumstances, I understood why he did it, and being his patient, endearing self, it seemed to be working.
In this episode, Cliff and Grace fans are probably not going to be in good humor. Don't get me wrong–Sebastian and Teryl still both play their roles with warmth and charm as only they can,  but something seems to be keeping their characters from acting like "themselves." This truly distressed me, and I had to do a lot of pondering to understand the underlying theme, and it comes down to this–pressure can make people act in ways that are atypical.
If you remember the opening picture, this episode could easily be renamed "Warren's Dinner Party." Already, Cliff and Grace were feeling the pressure from all of their friends in Cedar Cove. Between Peggy, Bob, Olivia, and more, you can sense the tension between Cliff and Grace from the opening of this episode. When Warren "crashes" the party, it sets everyone on edge whether he speaks to them or not.  And it is this dinner debacle that absolutely sends both Cliff and Grace over the edge.  So please keep all of this in mind as you view this week's episode lest you hyperventilate and begin to worry for the future of this delightful couple.
I cannot leave this couple without saying a few words about my dear friend who plays Cliff Harting.  It's never been a secret that Sebastian is my favorite actor, and whenever he is on-screen (no matter how small the role), my eyes are riveted on my television. Even though the story of Cliff has become even more of a secondary character this year than in past seasons, Sebastian has brought to this character true depth, emotion, tenderness, and old-fashioned idealism. I will forever be grateful to Hallmark for introducing me to this talented and genuine human being, and no matter if Cliff Harting has one line or fifty, Sebastian has a way of making the most of every single line and scene in which he appears. For me, every time he appears in this auspicious role, it is a remarkable treat (like savoring dessert), and I am convinced there will never be (could never be) another Cliff Harting.
And, of course, since I'm the reviewer here, I get to close out with the character who has become my absolute favorite and sometimes my motivation for watching the show–Warren Saget, who is played so phenomenally by Brennan Elliott. This episode is going to show you such a different side of Warren, and as a result, I predict a record number of #Warrenites will be added to the fold. This episode is our opportunity to see some genuine emotion and even a gentler side from Warren. Oh, he will still push Jack to the breaking point, and he will stir up nothing but trouble, but the way in which Brennan plays Warren makes this character the only "bad guy" I've ever genuinely liked.
Typically, I am dismissive of characters like Warren, and in days gone by, I never would have supported a character like him, hence my first season feelings for the resident villain.  Nevertheless, it is Brennan's portrayal that just makes me fall in love with the character of Warren, and that affection grows for that "misunderstood" character the more I see him on the screen. I invite anyone who has ever felt animosity towards Warren (as I once did) to tune in on Saturday with an open mind. The more pieces that are revealed about Warren's background, the more I am compelled to defend and promote this multi-faceted character.  Not to mention the fact that the humor his character interjects into what could otherwise be a mundane storyline is purely delectable. Furthermore, the fact that Brennan is genuinely kind and responsive to his fans (don't ever confuse the character of Warren with the true character of Brennan–easy to do if you're not careful) engenders my respect and support for him even more.
In conclusion, do not forget to turn in Saturday for one of the most tempestuous episodes of Cedar Cove season three yet!
For more information:
http://www.hallmarkchannel.com/cedar-cove
https://www.facebook.com/CedarCoveTV
https://twitter.com/cedarcovetv
https://www.pinterest.com/cedarcovetv/