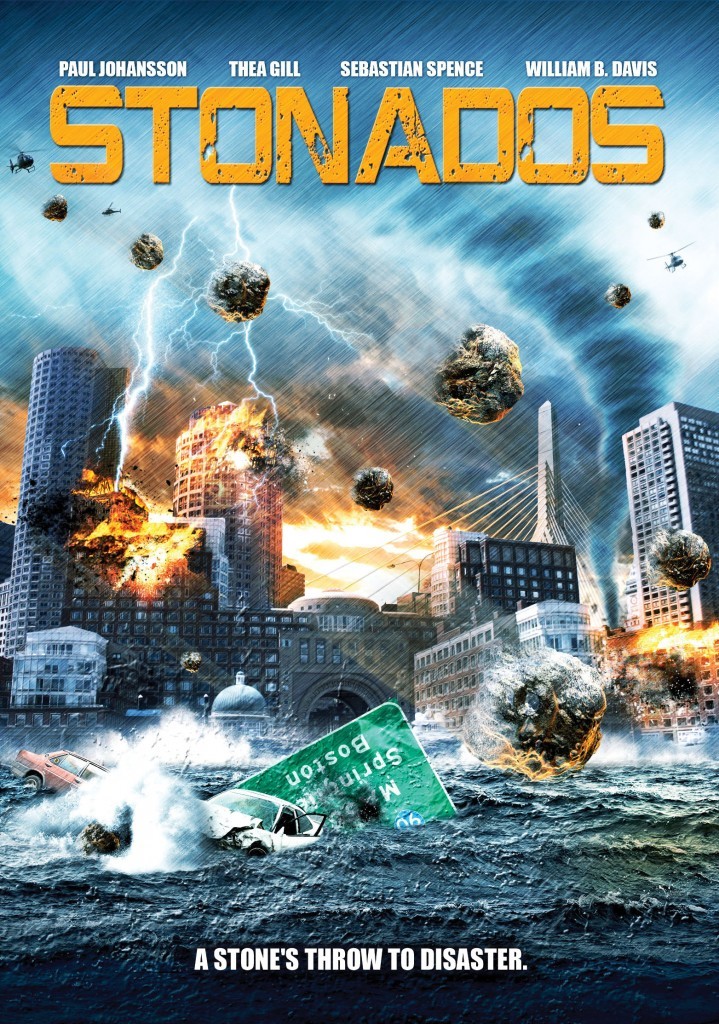 When a tornado appears in the waters south of Boston, former storm chaser Joe Randall is intrigued by the unusual weather. But as twisters begin to strike across the Boston shoreline, Joe quickly realizes this is no ordinary storm front. As the storms threaten to move inland, the citizens of Boston find themselves trapped in a tempest turning deadlier by the minute. With the city under siege, Joe, his sister Maddy and his old storm chasing partner Lee realize they're dealing with a never before seen weather phenomenon known as Stonados. The only chance of stopping the storm is an untested theory about weather manipulation… the same theory that Joe has been trying to prove for over a decade. But with the storm spreading and threatening the entire Eastern Seaboard-as well as Joe's children who are trapped in a storm-besieged stadium-Joe and his motley crew will have to give it a try, either saving the world… or accelerating its destruction!
Yes, finally reviewing one of my dear friend's movies again.  It's kind of funny–of my friends who are Sebastian Spence fans, I am truly the only one who hadn't seen this film. I had watched so many others, but I was saving this one for a special occasion. And that special occasion came Tuesday night.  And I'm so glad I waited to watch this. Why? Well, if you follow my reviews, you will know how much I abhorred science fiction films, but for the sake of dear Sebastian, I set those feelings aside and kept an open mind. And it has been a long process. From NYC: Tornado Terror where I almost didn't finish the film to First Wave where I got hooked, my journey to "the dark side" has been quite a journey. I almost blush to admit that it would appear that I have now become somewhat of a science fiction aficionado (I refuse to call myself a geek–I'll let others describe me as such). What on earth has my friendship with Sebastian Spence done to my taste in films? Oh well, I cannot complain too loudly, for through his works (and our friendship), my world has been opened in so many new ways.
As the three core members of the film, this is like a dream cast.  Miranda, Sebastian, and Paul work so exceptionally well together that I was completely entranced. The chemistry is ideal between all of them, and I think the SyFy Network would be smart to bring these three back. There was a veritable comfort and ease in the delivering of the dialogue and the interactions between the three of them. In spite of the fact that the storyline sometimes strains the bounds of reality, these three are such experts that one  tends to believe what they are espousing. The writing was truly remarkable, and I would relish seeing these three brought back for a sequel.  I realize that Sharknado has a cult following, but I would think that this film should too.
As I did my research for this film, I was intrigued to discover that the film was delayed due to the Boston Marathon bombing. And maybe that accounts for this film's lesser popularity.  It's unfortunate that this film would cause a disaster to occur in a place where such a horrific thing occurred, but I don't think that the film should suffer due to its geographical placement.
As to content advisory, this one is relatively mild. The profanity is almost nonexistent, no bedroom scenes, and the violence is really not that heinous. Yes, the actual "stonados" are rather frightening, and at times I was on the edge of seat due to the intensity. But it was not bloody, and dead bodies were not shown. I was surprised that more sorrow was not shown when dear ones were killed by the stones, but I guess with the horrendous state of this natural disaster, I suppose that shock was the prevailing emotion.
I was completely captivated with Miranda's portrayal of Maddy, the tough female cop. I read that some felt her role was too small, but I never saw it that way. Whenever she was on-screen, I was drawn to her beauty and her command of the scene.  I was so pleased to realize I had seen this lovely lady in a film only a few months ago. Yes, she played Erin Krakow's arch nemesis in A Cookie Cutter Christmas. However, I also discovered I had recently seen her on the season two finale of First Wave.  And my mom saw her in Heartland, so she has certainly made the rounds in our household lately. But I absolutely adore her in the role of Maddy! additionally, her character's uncomplicated chemistry and interactions with Sebastian's character are utterly entertaining. Indeed those two should be cast opposite each other again. There is just something special about that duo. She does so well playing the confident cop who resists this cocky weatherman but secretly savors spending time with him. I will certainly watch for her more in the future. (Update: I wish that IMDB would get with the program and do the necessary updates. I also recently saw this glorious actress in Aurora Teagarden: A Bone to Pick I admit I didn't recognize her, and she was not listed on my resources or I would have reviewed her magnificent role in that film as well when I reviewed that earlier this week. I now remember her part, and I am so pleased to have such a variety of opportunities to see her in action.)
As to Paul Johansson, he seems so familiar but I have not officially seen anything else in which he was featured (except First Wave).  Regardless, I love his character as well. Joe is the typical single father who honestly is struggling to raise his kids (glad he has his sister Maddy's help). Some criticized his character for letting his kids run wild, but their interactions seemed rather normal to me. Most single fathers don't know how to deal with teenage girls (at least from what I have observed).  Furthermore, I loved the rapport that he and Sebastian's character had. Poor Joe had lost his wife, and he also had to bid his scientific career goodbye in order to support his family. All of the theories that he and his old pal had devised did not pan out, but it's as though he has a second chance as a result of this disaster. For me,  Paul played the character capably and credibly. From the moment he appeared on-screen, I liked his character. I will also have to remind myself to look for more works with him.
Of course, dear reader, you know why I watched this film (and if you don't, just look at this picture).  Yes, Sebastian plays that darling but cocky weatherman, Lee, and I was smitten with his character from the instant his face graced the screen. I read that someone complained about the fact that his character seemed to smile far too much, but I think that particular reviewer missed the point. The role of Lee Carlton is overly confident and appears to be sure of himself and his charm (actually it's a cover-up of his true insecurities).  Thus, it would make sense that his character wears a "permanent smile" (actually his character doesn't and I think the reviewer had obvious bias against my dear friend).  If you look at this picture, you will see that this smile describes the character of Lee immensely well–very self-assured, or at least he wants you to think he is.
Moreover, the moment I saw Sebastian's character, it was clear to me (maybe because I know him so well) that he unquestionably adored playing this character. It is so opposite from the quiet, reserved, and humble man I know–which only made the humor more delightful for me. Seeing his wry smile, his conceited attitude, and his ostentatious mannerisms along with his expertly timed humor made me revel in his character even more. Whenever Lee was on the screen, I was drawn to him (oh yes, I generally am drawn to Sebastian's character, but there is something about this character that is just so diverting and delectable).
Something else I so appreciate about his character is he provides so much of the underrated comic relief. For whatever reason, I am one of the few people (maybe I am wrong but this does seem to be the case) who truly sees the absolute brilliance of Sebastian's comedic timing. No, I did not say he was a comedian.  And as pictured here, he often has these intense moments in his films. This is decidedly the case in this film. However, the intensity becomes almost more than the viewer can stand, and it is often Sebastian's character that provides the quick and nonchalant wit needed to ease the tension.  He always delivers his lines with simplicity and sophistication, and there are times I actually had to rewind the film since I missed what he said (not that I minded rewatching any scene in which he is featured). I think some people may not pay attention to every detail and often miss the subtlety of his humor.  And sometimes it is the delivery and the response (or lack of response) from the other character(s) that makes the scenes work.  And maybe I just understand Sebastian too well (is that actually possible?).
There is absolutely nothing like seeing the three principal characters working together to save the city of Boston from disaster. Again, I wasn't always certain they would succeed, and I refuse to give any spoilers in that department.
The special effects were certainly better than some of his other sci-fi works–glad to see television networks stepping up to the plate and rivaling almost what you see on the big screen.
Of course, Sebastian's character was always ready for a show no matter what was going on. Interestingly  enough, even in the two years since this film was released, technology has increased astronomically. Though modern, this film already shows its age a bit, but I never saw that as an issue.
But it is these two I absolutely cherished whenever they were on-screen together. With all my heart, I wish I could put my finger on the source of their undeniable fluency, but it appears to be beyond my grasp.  Oh Sebastian rarely has any trouble finding chemistry with his leading ladies (or at least if he does, he conceals it well), but these two are just pure magic. There is barely any physical contact between them, but the smiles, eye contact, body language, and ingenious lines and delivery say it all.
I mean, can you say electricity? I feel sorry for Paul's character in this scene!  I will not add any spoilers, but I have to admit the ending was a welcome surprise.
One additional note here to share. When we arrived home Wednesday night, we heard an unusually loud noise. Normally I would have thought it was thunder or possibly even the nearby military base (we did determine that was what it was), but you know what came to my mind? Stonados! Okay, I know it was a film, but it doesn't mean it doesn't affect my imagination.
In conclusion, this is indeed one of my favorite of Sebastian's films. And if you follow my reviews, you know I don't say that after every review (I say it after many, but what can I say? I'm fiercely loyal.). Did I mention he looked rather fetching in this film? I may have glossed over that point, but don't ever think I don't notice his handsome and dashing features.  I do seem to recall having to catch my breath or stop myself from salivating on a couple of occasions during the viewing of this film. But I am so grateful that he is more than a "pretty face" in all of his works! He is an astonishingly talented actor that never fails to impress me every time I see him on the screen.  And undoubtedly, this is Sebastian Spence in his element at his finest.
If you would like to read a different perspective on this film (with obvious bias but not towards Sebastian) check out the following:
http://www.geekwithmak.com/2014/01/movie-review-stonados.html?m=1
For more information on the film, please check out the following site: