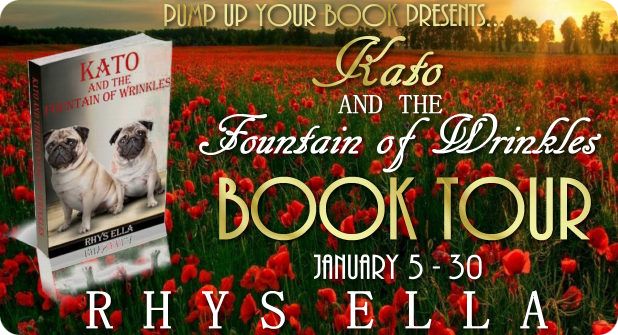 Pump Up Your Book is pleased to bring you Rhys Ella's KATO AND THE FOUNTAIN OF WRINKLES virtual book tour January 5 – 30!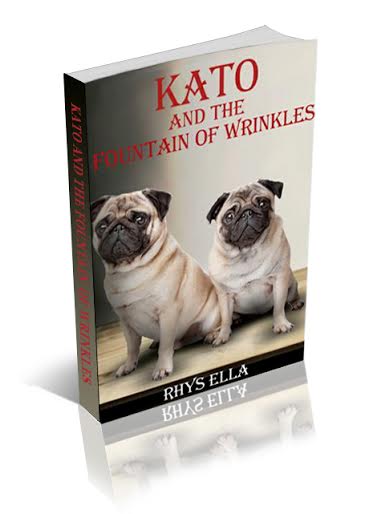 Title: Kato and the Fountain of Wrinkles

Author: Rhys Ella

Publisher: Tate Publishing Enterprises, LLC

Pages: 284

Genre: Comedy/Action/Adventure/Young Adult

Format: Paperback
For famous animal actor Kato Rhyan, being named "Cutest Pug Alive" by Pooch Magazine was cool (all right, really cool).  But for him, acting isn't about fame, it's a part of him buried deep within his soul; and he's not about to let anything stand in his way of becoming the first animal to win an Oscar for Best Actor, even if it means taking on a role that requires a wrinkly dog's worst nightmare – Botox injections.

But before the injection process begins, it's discovered that the Fountain of Wrinkles — located in his beautiful hometown of Callia Rugas — has been contaminated by Botox, jeopardizing the lives of crinkly canines everywhere and setting off a chain of events that force him to bid farewell to his dream and set foot on an adventure of a lifetime in search of the antidote to restore the Fountain.

But as with any good Hollywood tale, the story that seems so apparent is not always the one that unfolds.  The twists and turns that follow are sure to keep you guessing and laughing.
For More Information
Rhys Ella, lover of all furry four-leggers, grew up in small town West Virginia surrounded by cats who believed they were dogs and pint-sized dogs with personalities larger than life.

Today, Rhys lives in North Carolina with her husband, young son, and a fish named Hobo.  An avid runner, the book's concept came to Rhys during an evening run but did not fully come to fruition until the passing of her fourteen-year-old pug, Prince "Kato" Chang.

Her latest book is the comedy/action/adventure/young adult,Kato and the Fountain of Wrinkles.
For More Information
Kato and the Fountain of Wrinkles by Rhys Ella
My rating: 3 of 5 stars
I am one who loves animal books. There is nothing better than having the dog (or even cat) tell the story. I know very little about pugs, but I am always delighted by animal stories. And I cannot complain. This was a fantasy story featuring pugs and their many adventures. And what could be better than pug actors?
While I believe the author put forth a valiant effort. I found my interest waning from time to time. I wanted to truly love this book more than I did. Kato was delightful, but for some reason it did not caputure my attention as I wished it would have. I can easily rate this a 3.5. The book was easy to read, and it was filled with humor and nothing inappropriate. But it just wasn't my favorite animal book. Perhaps if I knew more about pugs, I would have enjoyed it more.
To the author's credit, she dedicated this to a family pet who is no longer with her. More than likely this work is very near to her heart, and I am sure that this will be embraced fully by many readers.
I was sent a copy of this book in exchange for my honest review. I was not financially compensated, and all opinions are 100 percent mine.
To follow the entire tour, click here.
Interested in subscribing to all my site's updates? Subscribe below!