Tom hasn't been what you'd call the most faithful husband, and now he's gotten himself mixed up with a bad girl named Lisa. After their scandalous affair, Tom kicks Lisa to the curb and she vows to get revenge. Her plan spirals out of control and someone winds up dead – you won't believe who!
I do believe it's been a week since I reviewed one of Sebastian Spence's films–so it is that time again.  To Have and To Hold is another of his Lifetime films, and it has been at least a month since I first saw it. One of my sweet online friends recommended it to me, and of course, dear reader, I don't even need that kind of recommendation to agree to watch one of his films. Once I find out that he is in a film, I am immensely pleased to view it.
When I first watched this, I had to make certain that no one else was around. I know I say this often but I do have a preteen daughter, and I have two parents who are not keen on lifetime films (nor science fiction, etc.).  I knew nothing about this film except that he was in it, so I prefer previewing a film like this before permitting the rest of the family to watch it.
This film has the distinction of being the first of his films that I saw where he didn't play the "nice" guy. Not that he was all bad, but I will admit that I was not entirely certain I liked the film at first. It was such a departure from many of the other films of his I had seen, and there are portions of the movie that would definitely bother more sensitive viewers, but I will go into more detail with that later.
As time has now gone on and I have come to appreciate the versatile range of Sebastian's acting, I have come back to films such as these and viewed them through different eyes.  Although he and I have developed a friendship and I will always be biased to a degree, it doesn't mean I cannot give you a forthright review of this film–at least how I see it.
My Review:
As far as Lifetime films go, this one is probably about what one would expect. Suspense, a bit of action, crazy people, murders, and a somewhat unsettling resolution.  In fact, I possibly would have overlooked this movie had it not been for the leading man.  And what a gem I would have missed!
Upon my first viewing, I was three-fourths of the way done with the film before I realized who the leading lady was–Justine Bateman! I grew up watching Family Ties, and it was one of my favorite shows long after anyone in the house was interested in it. Justine played the airhead sister to Alex (Michael J. Fox), and she always did it brilliantly. I would not have expected the depth of acting from her that I witnessed in this film–a complete departure from her former role.  I think that is why it took me so long to figure out where I had seen her before.  I also would never have cast her opposite Sebastian, but they seem to fit their respective roles astonishingly well. Their chemistry and interactions are practically flawless.
For the Cedar Cove fans amongst us, you might recognize Derek Hamilton as Stevie, Lisa Carver's (Jessica Lowndes) ex-boyfriend.   This connection I would not have made when I first saw this film as the final two episodes of Cedar Cove had not yet aired.  If you watched those episodes, you would perchance recognize him as Hugh, Alex's boyfriend/ex-boyfriend and the arch-nemesis of Cowboy Cliff.  It is quite compelling to see him playing a role that is against Sebastian's character yet again.  And indeed Derek plays his role masterfully.
As to the character of Lisa Carver played by Jessica Lowndes, I have seen her in nothing else, as far as I know.  Though quite attractive, she definitely plays the part of the unstable ex-lover exceptionally well. I believe that the chemistry between these two is exactly as it should be too.  I will admit–the scene that begins the film is not one of my favorites. Nothing against either Jessica nor Sebastian, but this is the typical Lifetime intimate scene, and it is a bit overdone. That's typical fare, and thankfully that is all you see of these two together in bed.  But it is sufficient to see that there is no way his character would ever find true love with her, and her character looks a bit demented from the outset.  As a side note, there is very mild profanity in this film as well, but it almost not worth mentioning.
Let's not forget the darling girl who plays Ellie Davidson (Haley Guiel), the daughter of the troubled couple. She was so adorable and perfect in the role–how could you not fall in love with her character? It's easy to get caught up in the suspense and drama of the storyline, but Haley brings that sweetness to the film, and Justine and Sebastian play the ideal parents to her. I reveled in watching both of their characters with this little girl, and I believe she does deserve an honorable mention.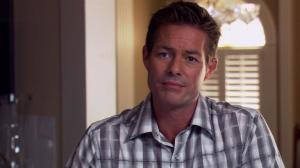 Did you think I would forget my entire reason for writing the review? Not likely, dear reader. I tend to save the best for last.  And you should know by now where my affections lie. In the role of  Tom Davidson, Sebastian plays a role that is so often contrary to the man I've come to know. But the truly eerie thing is he is so convincing in his role as he always is. Versatile to the core and always one to entirely throw himself  into every role, he is extraordinary yet again. In fact, when he plays the part of the devoted husband, he is so credible you forget he is deceiving his wife. Yes, it is true that his character is torn. He realizes that he has made an abhorrent mistake that could cost him the most important thing in the world to him.  However, he is also grappling with the issues surrounding his marriage since his wife is so driven to "have it all" the she does not render to him the attention he so desires.  Therefore I must say that he plays both sides of his character with an uncanny knack.
Sometimes the most unusual things capture my attention when watching movies (especially his). Honestly, I am not generally intrigued with how any actor plays the part of someone who is drunk.  But I feel compelled to say that the two times he is "drunk" are absolutely delightful and entertaining to watch.  That may sound odd but in a movie that has such a dark story, I am always searching for the lighter moments.  Additionally, there is not much better than seeing Sebastian show the full range of his emotional acting skills. I simply adore it when he shows strong emotions such as anger because it is so opposite what he typically displays.
Although some people will concentrate on his physical features, permit me to make this abundantly clear.  While I would never deny the fact that he is a handsome man, his warm personality, genuine caring nature, and amazing acting ability are what continue to draw me to him and his films.  And even though my propensity for him and his movies will always color my reviews to a degree, you can invariably count on my reviews to be accurate, genuine, and from my heart.
For more information about the movie, check out either of the following links:
http://www.imdb.com/title/tt0876154/
http://www.mylifetime.com/movies/to-have-and-to-hold