If you follow me on twitter, you will know about my passion for two things. Sebastian Spence (Cowboy Cliff) of Cedar Cove (be still my beating heart) and Signed, Sealed, Delivered. Both of these are on the Hallmark Channel, and for some time, I have been working as a member of the #POstables promotion team to try to convince Hallmark to renew Signed, Sealed, Delivered.  Just so you know, neither of these passions of mine will stop any time soon.  But I will admit that Signed, Sealed, Delivered holds the top place in my heart (sorry Cliff), and I was anxiously awaiting the announcement about the upcoming Christmas movie. I tweeted with the cast during season 1, and I even tweeted with them while they were filming the show (oh, goodness, don't get me started–we had some wild conversations sometimes). It has been a long time coming, but the official announcement has come from the powers that be that this movie has been moved up to November 23 on Hallmark Movie Channel. I know this disappoints some of the fans who don't have this channel, but I am ecstatic.
First of all, note the new name of the channel that will roll out soon.  Secondly, those of you who know nothing about the show may very well recognize Eric Mabius of Ugly Betty fame.  All four of these actors, Kristin Booth, Eric Mabius, Crystal Lowe, and Geoff Gustafson, play their parts exceptionally well, and I have come to love each and every one of them.  For me, this will be my most anticipated Christmas movie of the season.
I'm not going to giveaway any of the plot for this movie, and I have not seen it (don't worry–I'll review it at a later date). But let me give you a big of a back story on the series.  The setting is the Dead Letter Office of Denver, Colorado.  Going from left to right, you have Shane, Oliver, Rita, and Norman.  Shane is the techie in the bunch. Oliver is the old-fashioned gentleman. Rita has a photographic memory. And Norman is quirky–no more need be said.  Rita is in love with Norman, but Norman doesn't even notice her. Oliver's wife left him two years ago, and Shane was "accidentally" placed in the office.  You can guess that she and Oliver are falling in love, but Oliver is awaiting his wife's return.
This is a scene with Shane, Oliver, and dancing. This is probably the most exciting photo I've seen.  While very few details have been released, this is a perfect Christmas movie that I anticipate with baited breath. And for Christians, this series is unbelievable.  There are always Bible verses featured and Christians themes and principles.  So it is definitely one to check out!
This weekend, though, you don't want to miss Cedar Cove! There are only three more episodes, and things are heating up.  If you have not been watching Cedar Cove, well, you are missing out on the #1 Saturday night show!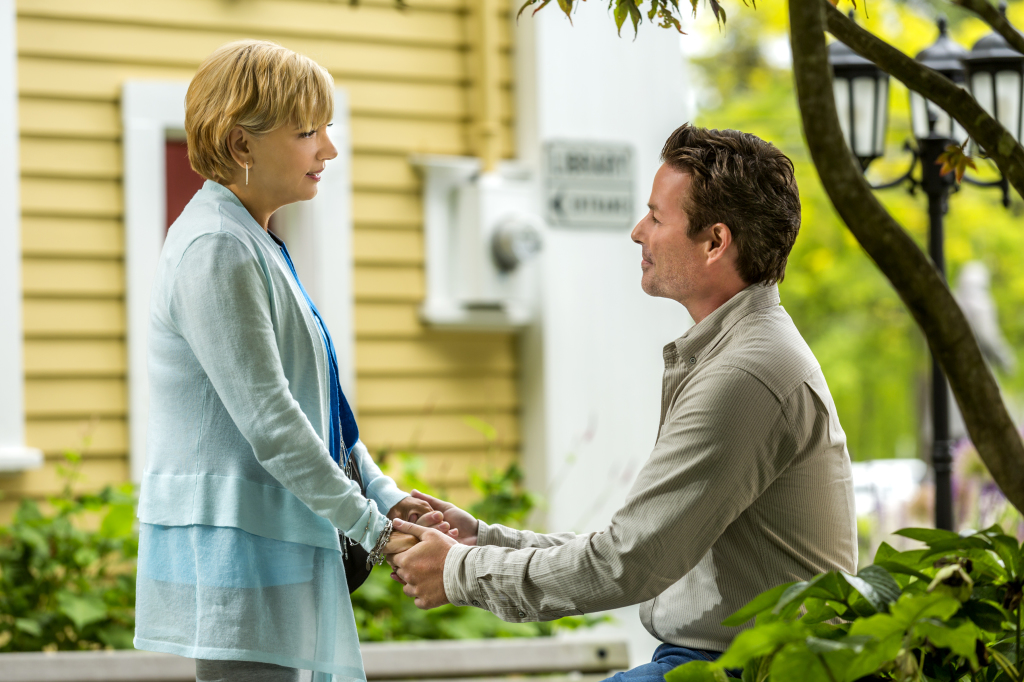 Oh, and by the way, if you haven't seen the script I won from the cast:
So I have a very important date on Saturday, but in the future, my date will be with the #POstables (postal detectives).
With the exception of the script picture, all pictures are courtesy Hallmark Channel and Crown Media Press.