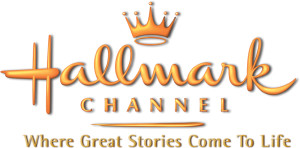 If you have been following me on twitter and facebook lately, you might have noticed a lot of tweets and even facebook postings regarding a certain network–Hallmark Channel.  I will be very honest with you.  I was not a fan of Hallmark channel until last summer.  When they rolled out Cedar Cove, I watched it, and then we went on to watch When Calls the Heart.  Somewhere in there, we saw the pilot of Signed, Sealed, Delivered.  I have to admit that Hallmark won me over, and I started becoming somewhat obsessed with SSD.  I was drawn into the show in a way I never had been before.  Check here and here for more.  I became obsessed, and my twitter timeline shows it.
As I began working hard to promote this show, I learned about a program to promote this network.  And it is official.  I am a member of the Hallmark Crown Media Press.  I was so shocked when they said they accepted me because I am only a lowly blogger, not an employed member of the press.  But God has been behind all of this from the beginning.
I do invite you to check out the crazy tweets I have been sending lately.  In fact, I have been involved in two entertaining twitter conversations with Geoff Gustafson from SSD.  And the other three members are great about tweeting, too.  I have never interacted with shows like this, but I will admit I'm hooked.
So, let me now share with you the latest from Hallmark.  I was so excited to read about this!
HALLMARK CHANNEL

GREENLIGHTS

PRODUCTION ON

'CHESAPEAKE SHORES'
A HALLMARK CHANNEL ORIGINAL MOVIE AND BACKDOOR PILOT
SET TO PREMIERE IN 2015
Movie Will Be Based On The Beloved Novels By
New York Times Bestselling Author Sherryl Woods
Hallmark Channel announces it has greenlit "Chesapeake Shores," a Hallmark Channel  Original Movie and backdoor pilot. Based on New York Times bestselling author Sherryl Woods'  cherished 10-part book series of the same name, "Chesapeake Shores" follows the heartfelt  story of the O'Brien family. A sprawling, multi-generational clan, the O'Briens reunite in their  charming hometown on the banks of the Chesapeake Bay to face the painful memories from
the past and learn the importance of reconciliation. The movie is scheduled for its World Premiere on Hallmark Channel in 2015. Should the movie pilot go to series it will be the fifth original primetime series for the network, following the network's other original series, "Cedar Cove," "When Calls the Heart," "Signed, Sealed, Delivered" and "The Good Witch."
"We have had tremendous success partnering with bestselling authors to bring to life their beloved stories and we are so excited to extend that partnership with revered author

Sherryl

Woods," said Michelle

Vicary

,

EVP

, Programming for Hallmark Channel and Hallmark Movie Channel. "We know our audience will be captivated by the breadth of storylines and characters that

Sherryl

weaves throughout her books and we are thrilled to bring 'Chesapeake
Shores' to our audience,"

Vicary

concluded.
Woods started writing the Chesapeake Shores book series in 2009, and is a successful romance writer of over 100 romance and mystery novels since 1982. She is frequently on the New York Times and USA Today bestseller lists with her stories that feature heartfelt family sagas. "Chesapeake Shores" marks her first partnership with Hallmark Channel, building on the network's previous success with bringing bestselling authors' stories to the screen.
"Chesapeake Shores" tells the story of architect and urban planner Mick O'Brien, who has built the community of Chesapeake Shores from scratch on land once owned by his ancestors. But the process of developing the town on the banks of the Chesapeake Bay created dissension among Mick and his brothers. His workaholic lifestyle created problems in his marriage as well, especially when his success took him away from his family for longer and
longer periods of time. When his wife left him, Mick convinced her to leave their five children with him in Chesapeake Shores, and then turned them over to his mother Nell to raise. Now, one by one, those children—now adults—are returning to Chesapeake Shores to make peace with their uninvolved father and with the mother they believe abandoned them. Mick's brothers,too, must find a way to make amends and move on. And at the heart of it all is Nell,
the glue that holds this entire family—sons, brothers, sisters, wives and cousins—together. "Chesapeake Shores" is about family, but it's also about community and heartfelt emotions—the kind that can tear families apart, and the kind that can make them heal.
So what do you think?  Sound pretty good?  I have heard of Sherryl Woods, but I have never read any of her books.  I love the fact that this channel is bringing books to life.  Watch for more updates as they come available.