One decision changed both their lives . . . but will love win in the end? Charlotte Rose Hill enjoys a comfortable life serving up country delicacies, uniquely blended teas, and matchmaking advice for her quirky, devoted customers. The only thing lacking is someone to share it with. At eighteen she denied Sam Wilder's marriage proposal after his family convinced her to walk away from their relationship. They both moved on . . . or so she thought. When Sam walks back into her life more than a decade later, Charlotte is surprised that her heart still quickens. But is it because of his presence? Or because of the presence of Sam's new fiancée? A second chance at love doesn't happen often, but their past may keep them apart. Is it too late for Sam and Charlotte?
Learn more at Anita's website.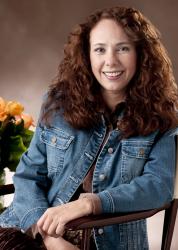 Best-selling and award-winning author, Anita Higman, has over thirty books published (several coauthored) for adults and children. She's been a Barnes & Noble "Author of the Month" for Houston and has a BA degree, combining speech communication, psychology, and art. Anita loves good movies, exotic teas, and brunch with her friends.
A Marriage in Middlebury by Anita Higman
My rating: 3 of 5 stars
With me, Christian contemporary romances are often hit and miss, and this is definitely a miss for me. I realize that some will really enjoy this book. The characters were fine, and life in a small town is always a plus. And the romances in the book take so many turns, that it will probably keep the reader guessing as to what might happen next. The writing of the book is fine. I have read other books by Anita Higman, and this is the first one I didn't really like. I appreciated the prejudice issue, but I wish it had been developed just a little more. Maybe with flashback or the like.
I felt that the Christian message of the book got a bit lost for me. I knew it was there, and I was glad to see the characters praying and going to church. God was the center of the lives of the majority of the characters, and it was a child that ministered to an atheist in the book–that was genius! For me, the book followed too much of a formula, but perhaps for contemporary romance lovers, this would fit the bill. I would have liked to have seen more risks taken with the story line.
I was sent a copy of this book in exchange for my honest review. I was not financially compensated, and all opinions are 100 percent mine.