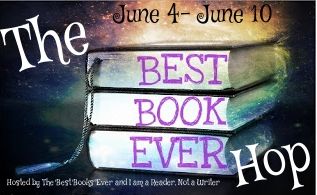 I can't even tell you how happy I am to be participating in the Best Book Ever Hop hosted by the Best Books Ever and I am a Reader Not a Writer.  I love book blog hops almost as much as I like reading books.  I invite you to check out the Best Book Ever site as you will find plenty of categories that feature some of the best book that were ever written. 
One of the categories that stood out to me was Dystopian.  This is a genre that was quite foreign to me a few years ago.  I am not a huge science fan, and a lot of thrillers are really too graphic for me.  But on a whim, I chose The Hunger Games when I won a book during Banned Book Week back in 2011.  I left the book on my shelf until early 2012.  I had been against the book from the beginning because it sounded so gruesome.  Kids killing kids for sport? 
For some reason, I began to decide that I had to stop and read this book.  And when I saw a movie was coming out, I had no choice.  I read the book–no, I devoured it.  I searched for my review of the book, but I guess I never got around to reviewing it.  Pretty sad, eh?  I love Katniss, and Peeta was the guy I preferred.  I won't spoil it for those of you who haven't read it.  I recently sent the entire series to a friend of mine in England, and it sounds like he has devoured the first two books and the movie.  I somehow knew he would enjoy it!
So enough talk–on to the giveaway.  I will be giving away a book of the winner's choice (not to exceed $15) from a random category on the Best Book Ever site.  What that means is that I will let random.org pick about 2-3 categories for the winner, and he/she will pick from that category.  You will not have to pick a book from the site, but you will need to find something that fits into the category.  For example, if it was villains, you would need to pick a book with a good villain.  Don't worry if you don't understand my meager description–you will.
Enter the rafflecopter below by 9 P.M. June 10.  As long as Fishpond and/or Book Depository ships to you, the giveaway is open worldwide.  After entering my giveaway, he sure to hop on for the chance to win more books!
a Rafflecopter giveaway
Interested in subscribing to all my site's updates? Subscribe below!