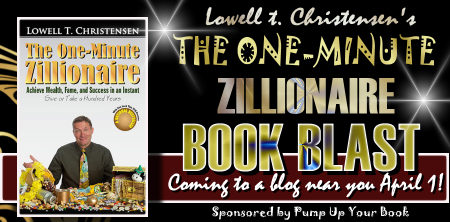 Pump Up Your Book and Lowell T. Christensen will be giving away a $25 Amazon Gift Card during his The One-Minute Zillionaire Book Blast today! This promotion ends at midnight. To enter, fill out the Rafflecopter form below and good luck! ————————————————–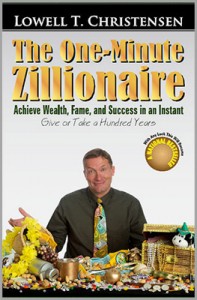 ABOUT THE ONE-MINUTE ZILLIONAIRE
Like any good success book, The One-Minute Zillionaire will get you so crazed with principles, keys, goals, affirmations, and profound and poetic platitudes that you'll want to dash to Alaska to search for gold and taunt grizzly bears. Christensen delivers a very funny yet sensible message with help from a wide cast of characters, including Shakespeare, Freud, Pamela Anderson, Dante, Greek goddesses, Chewbacca, Charles Manson, Saint Peter, and Pancho Villa. He pondered the powerful achievement techniques and heat-resistant feet of Anthony Robbins, the paradigms of Stephen R. Covey, the excellence of Thomas Peters, the mind power of Napoleon Hill, the brazen squint of Donald Trump, and the fudge-making ability of Martha Stewart. He consequently discovered the number one key to success, "The best way to achieve success is to write a success book." Christensen covers financial success but adds advice on wooing, weight loss, time management, travel, and other topics with the goal in mind of making the book thicker. Go to TheOneMinuteZillionaire.com for national and international reviews, excerpts, free bonus offers, and articles. Praise for The One-Minute Zillionaire: "The author has a light touch and the ability to laugh at himself and his own ideas. Without a doubt, Christensen is funny." — Foreword Reviews "Lowell Christensen is the author of "The One-Minute Zillionaire," a new humor book about success. In a press release, Christensen writes that he hopes his advice about "how success requires quite a bit of formal and practical education, hard work, and falling on your face a few times" will resonate with readers." — Albuquerque Journal
Purchase your copy:
AMAZON| BARNES & NOBLE
————————————————–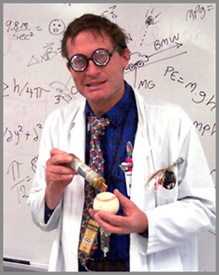 ABOUT LOWELL CHRISTENSEN
Lowell T. Christensen has kept himself busily occupied as a writer, engineer, rocket scientist, musician, backhoe operator, outdoorsman, chef, rancher, and international traveler. His previous books include Coping with Texas and Other Staggering Feets and Beginning Farming and What Makes a Sheep Tick, and he has written magazine articles that feature presidential elections through the theme of Shakespearean plays. Christensen also writes articles for his local newspaper about public education, cheesy television shows, Scout camp misadventures, and the county library's resemblance to a dead rhinoceros. With a degree in chemical engineering, he has worked for DuPont and the University of California. His latest book is The One-Minute Zillionaire: Achieve Wealth, Fame, and Success in an Instant, Give or Take a Hundred Years.
Sound like something you're interested?  Don't forget to enter the giveaway below!
————————————————–
~ ~ ~ $25 AMAZON GIFT CARD GIVEAWAY ~ ~ ~